Welcome to our Griffin Alliance Real Wedding blog, we supplied the Wedding DJ for Kelly and Michael for their wedding day and they were kind enough to allow us to do a write up about it! Enjoy, we hope you get some inspiration for your wedding day from this beautiful couple.
From vintage dress to beautiful garden views, these South Australian nuptials were a celebration to behold.
It was a beautiful summers day when Michael got down on one knee in the Mt Lofty Botanic Gardens and popped the question to Kelly. And of course her answer was 'YES!'
The couple straight away decided on 'Our Lady of the Rosary Catholic Church' in Stirling East to have their ceremony. As a young girl, Kelly would attend Sunday morning church services there with her family. With its quaint historic façade and its garden setting, it always stuck with Kelly.
"We both wanted a catholic church ceremony, so the church was pretty important to us," Kelly recalls.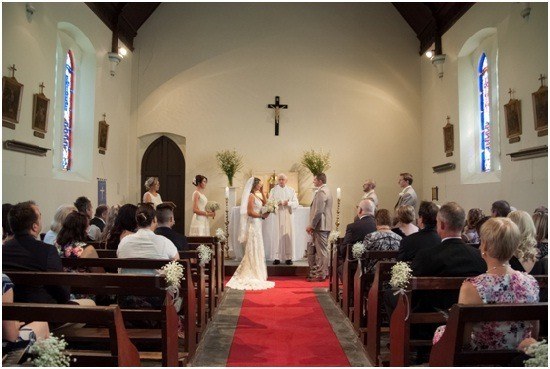 "Our Lady of the Rosary Catholic Church has always been my favourite church."
With the ceremony location sorted, they just had to find a venue. Staying in the Adelaide Hills seemed fitting for their vintage rustic theme, so Kelly and Michael booked in Mt Lofty Coach House for their reception.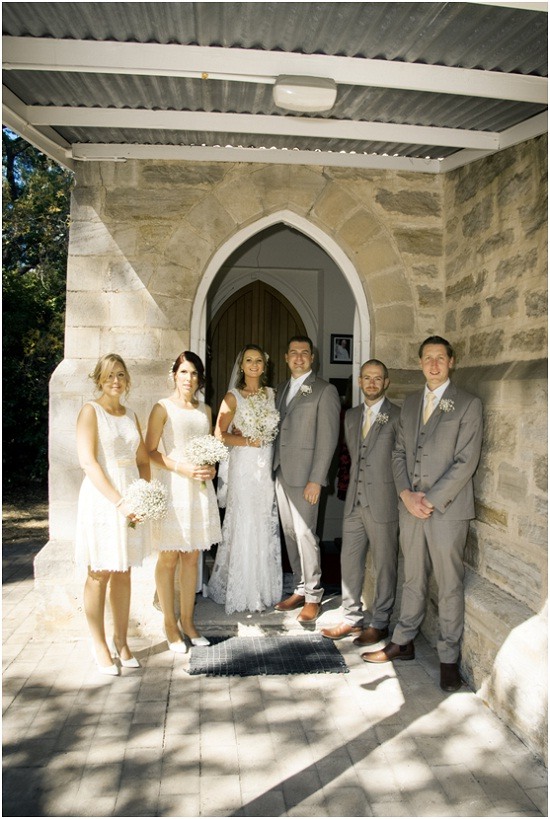 "We wanted to stay close by so we went to see the Coach House at Mount Lofty House. It was the first and only venue we looked at. With its white textured rustic walls, beautiful timber deck and lawn area topped off with a spectacular view – how could we say no."
Kelly loved the beautiful old building.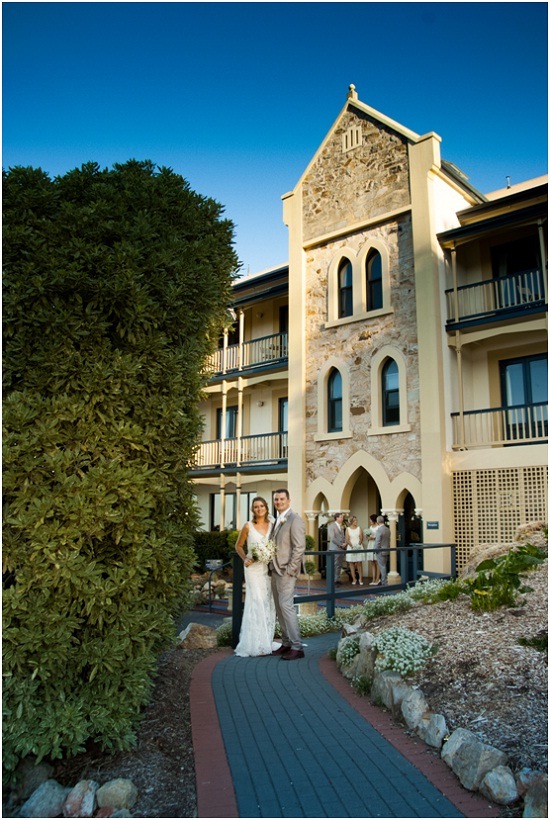 "I love the beautiful autumn leaves. The gardens at Mt Lofty House are simply stunning. Absolutely breathtaking views."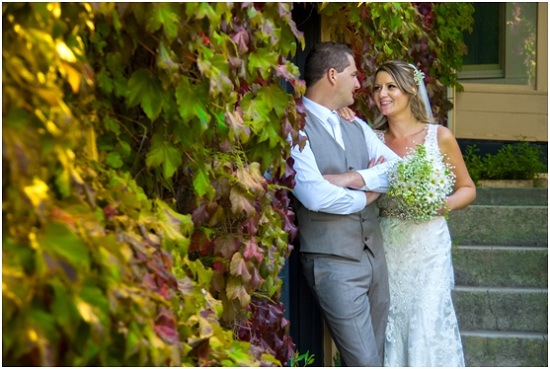 "Michael and I live in Port Lincoln, so we came over to Adelaide a week before the wedding to finish off any last minute preparations. The night before the wedding I stayed at Mt Lofty House with my 2 bridesmaids."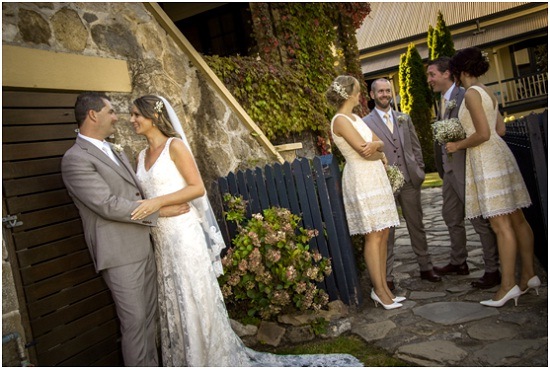 "Surrounded by autumn leaves, it was the perfect backdrop for a wedding."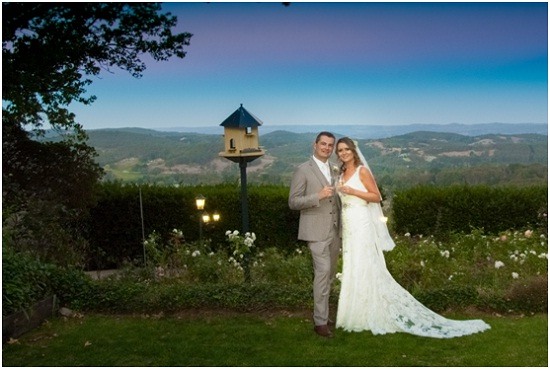 Baby's breath and daises were Kelly's flowers of choice – complementing her tasteful full lace vintage dress. Her hair down, dressed in soft curls and two daises.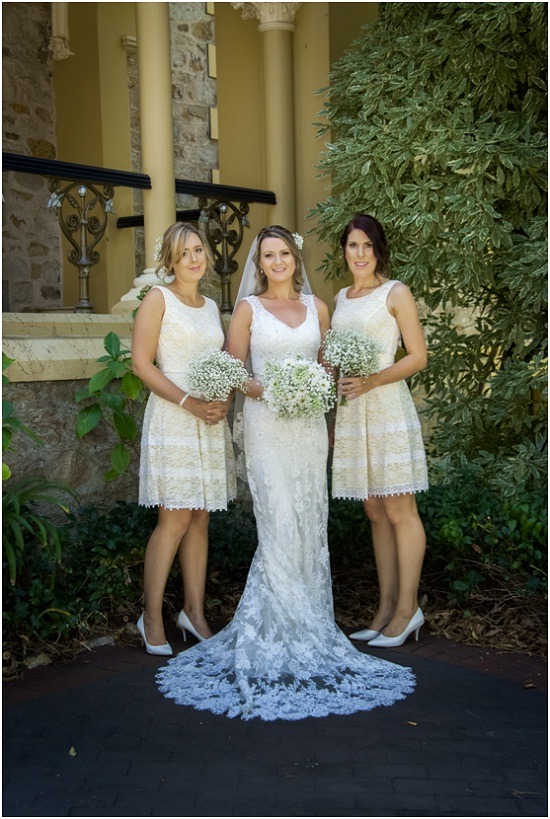 "I just love my dress in this photo. It's a modern day vintage dress by Essence Australia. My beautiful bridesmaids are dressed in lemon yellow lace dresses from Review."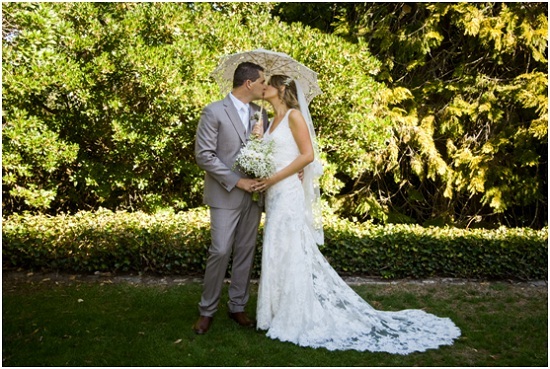 "This vintage shot is one of my favourites."
The couple proved there's style in simplicity – nothing too formal yet still classy.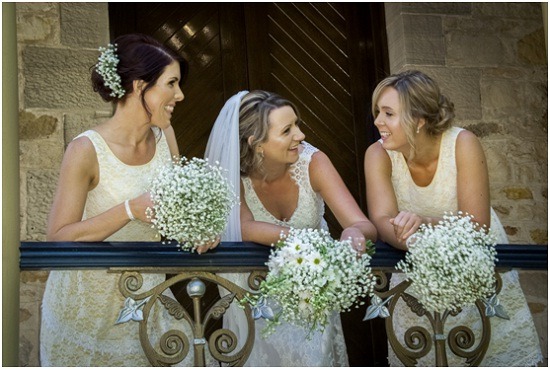 The couple just wanted their guests to have a good time.
"I love this shot because we look so relaxed and happy."
"Keeping the day small and intimate was important to us. We had 60 guests – all of the people who are special and important to us."
"It was great to see all of our beautiful family and friends there."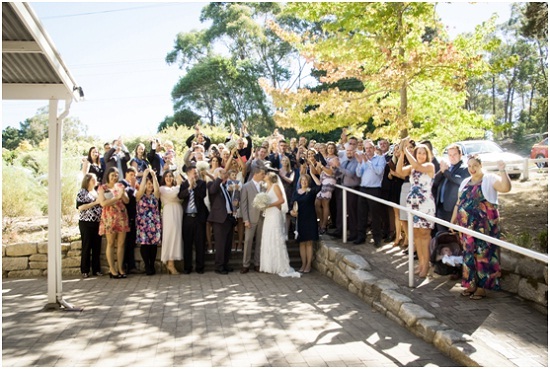 When asked her favourite parts of the day, Kelly giggled and said, "The whole day was perfect."
"I wouldn't change a single thing about the whole day. From our beautiful ceremony to our amazing reception party, chatting and dancing the night away with our family and friends. It's hard to pick just one or two moments – the entire day was absolutely perfect."
However, walking down the stairs to the church with her dad, Kelly said was pretty special.
"My dad came from overseas so it was pretty special to have him walk me down the aisle."
"As I got the church, my stomach was full of butterflies but I was so excited at the same time."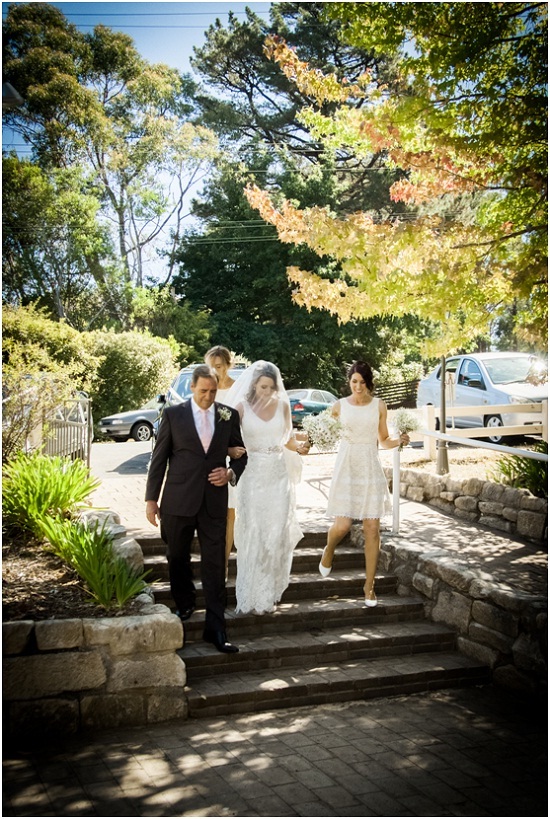 Kelly and Michael met back in 2011 at Friday night drinks at the Archer on O'Connell Street. They "hit it off" and the rest is history.
Guests from interstate and overseas made the trip to mark this special moment of their journey together.
The speeches entertain the crowd, as they laugh along with the jokes and stories – the type that always gets shared at weddings.
"Every father hopes that their daughter will meet somebody, a partner in life, that's sensible and considerate – and I'm sure that Kelly has made the right choice," Kelly's father, Tony, says proudly.
Michael and Kelly stand up the front arm in arm talking to their guests.
"She had me before hello," Michael tells the crowd.
"To the birth of our son Blake being the most special of anything we've experienced so far together – today comes pretty close.
Kelly and Michael were so happy to be able to share their special day with their beautiful son Blake.
Kelly and Michael shared their first dance to Ed Sheeran – thinking out loud – with nothing but smiles on their faces.
"The Ed Sheeran song was one that both Michael and I could agree on. It's a song that we both love and will be happy to listen to in years to come. The lyrics are lovely."
The day, for Kelly, was full of love and laughs.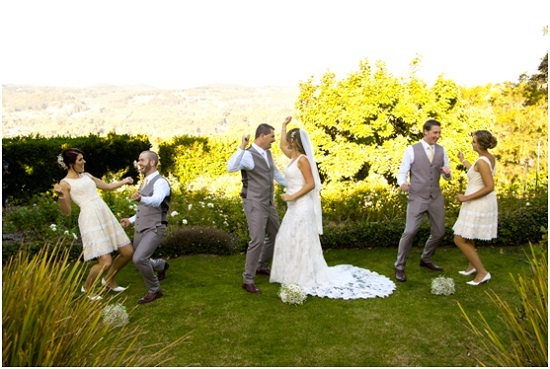 "We wanted to make sure our bridal party enjoyed every second of the day. And the photos were one of our favourite parts."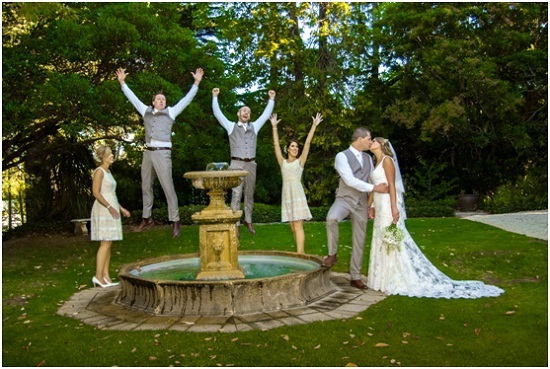 "I love the look on the groomsmen's faces!"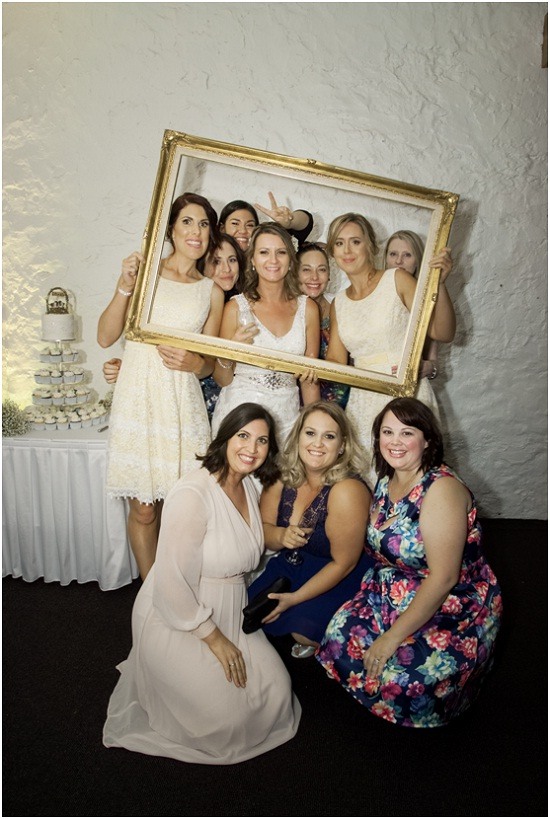 "Our wedding cake and cupcakes from Lee's Cakes were beautiful. With flavours such as Lemon curd, red velvet and raspberry swirl they were a big hit with the guests too!"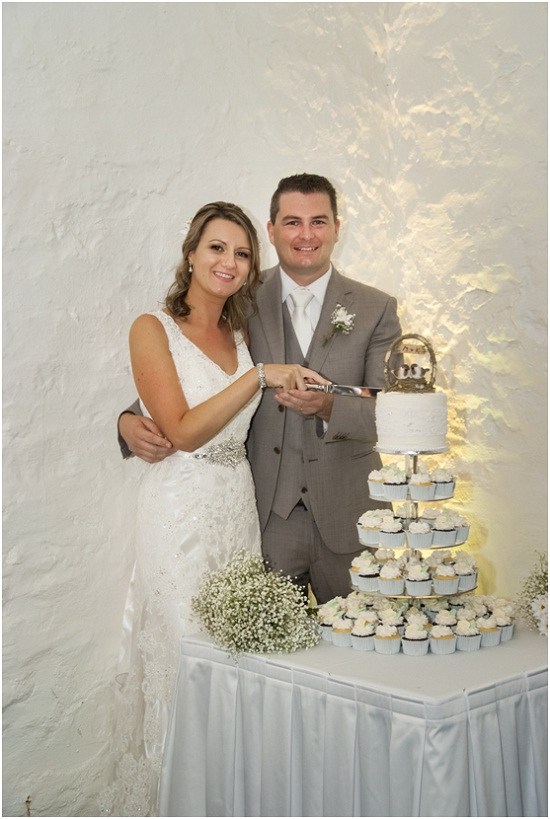 When asked about their photographer, she said: "I loved our photographers creativity, especially in this shot."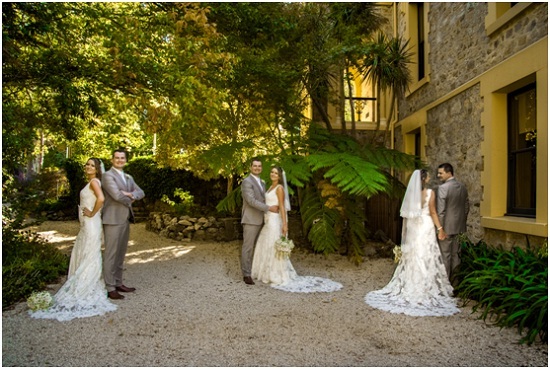 "We gave him an idea of the type of shots we wanted and on the day he ran the show and everything turned out perfectly."
Congratulations newlyweds!
Kelly and Michael's celebrated their love on a beautiful, relaxed autumn afternoon. The entire day was really relaxed, allowing the couple to soak up each special moment.
It was a completely wonderful experience and we'd like to thank you for sharing your special day with us.