"We rate David's performance very highly because he made the night very enjoyable for us and for all our guests. He was a great MC and has done a fabulous job incorporating the music from the 2 different countries to make it so much fun to be on the dancefloor."
– Amela Ramcilovic, Wedding client VIC
"Dan did a great job, he was very professional, the sound was awesome! He gave great advice before and during the wedding."
– Matt Vigus, Wedding client VIC
"He listened to what the crowd wanted and created the music for them to dance"
– Sonia Canton, Wedding client VIC
"Nick did a great job as DJ and MC for our wedding and did an excellent job of choosing the right songs at the right time throughout the night. The only reason it wasn't a 10 was because there was one minor hiccup where we asked that he invite our guests onto the dancefloor around 30 seconds into our first dance as it was the only slow song of the night and we didn't want to dance on our own for too long. Guests weren't invited until the song was about to finish so they ended up getting onto the dancefloor just as the music stopped. However, Nick did chose an excellent song to play next which all of our guests could dance too which was good."
– Ashleigh Gleave, Wedding client ADL
" He was great, organised and had great advise to make the night the best ever!! "
– Shaanie Meyer, Wedding client VIC
"Great customer service, personable, great taste in music."
– Emma Jongejan, Wedding client ADL
"Chris was amazing. He knew exactly what songs to play at the right time and followed our brief to the tee. He checked in on us throughout the night. He is so friendly and was perfect choice, he fit right in with our quests too."
– Katherine Hinter, Wedding client VIC
"Norman was absolutely brilliant from start to finish. He was full of awesome, fun suggestions and played a excellent set of music all night.
I would highly recommend Norman. He made the whole planning and organising a easy simple process and make our night the party we wanted!!!"
– Chelsea McClelland, Wedding client ADL
"Shaun was amazing! He was friendly and extremely helpful, making sure our wedding reception ran smoothly and we didn't have to worry about a thing! He was simply amazing!"
– Melissa Morrison, Wedding client ADL
"Daniel was super impressive, very professional and just a lovely person to be apart of your special day."
– Natasha Chu, Wedding client VIC
Alex – Vendor VIC
Triple R – Vintage Cars
Website: http://www.tripler.com.au/
03 9388 2100
Michael Lee – Vendor VIC
Owner
Brighton Savoy
events@brightonsavoy.com.au
Website: http://www.brightonsavoy.com.au/
An Award winning wedding venue, an event to remember, the Brighton Savoy have just celebrated their 50th year as a wedding venue and hotel
Lulu Bird – Vendor VIC
Florist
lucie@lulubird.com.au
Website: https://lulubird.com.au/u/
Renata Finkelstein – Vendor VIC
Weddings of Distinction
They're the wedding ninjas…they appear, setup and then disappear…
(03) 9699 3330
info@weddingsofdistinction.com.au
Website: http://www.weddingsofdistinction.com.au
"Daniel is a wonderful and engaging professional and definitely someone that we love working with!"
"He played everything we asked, kept everyone dancing all night, and sought us out to check anything he wasn't sure of. Also, he stepped in at the last minute after three other DJs had to pull out, and even collaborated with my Dad for Dad's speech!"
– Kaitlyn and Chris Overton, Wedding client ADL
"Great playlist and very approachable."
– Kylie Forrest, Client
"Shaun was spectacular on the day. He not only was an excellent DJ in playing the songs that we wanted, coordinated with the celebrant for ceremony music, and played the music at correct volumes (low during dinner particularly) but also as great at coordinating with our MC, caterer, and the owners when we encountered a few issues. There was no power point at the ceremony site but Shaun spoke to the venue owner and celebrant and solved that problem without needing any input from us, he continually checked in with the caterer to adjust the schedule when the food service ended up being slower than expected, and he was very adaptable. He also kept us informed and made useful suggestions as to how to adapt the schedule which we usually accepted and he liaised with the caterer/venue owners/MC to make those changes happen. He also coordinated with the venue owners to start the fire pit when it got really cold and getting extra lights set up. He was very punctual in showing up on time before the wedding and he was also very professional and very nice. We are extremely happy with the services he provided and think he was worth every penny that we paid for him and we will certainly recommend him to anybody we know in the future that needs DJ services."
– Brett Coghlan, Wedding client ADL
"Shaun was an absolute pleasure all night. He arrived early to set up, worked the room to get requests, played a wide range of music that appealed to all of the different ages and tastes, and was able to accommodate most requests! (with the exception of the really strange request for Tom Jones!)
He handled himself with professionalism, even as the night wore on and the guys got a little "happy" from the alcohol….."
– Tania King, Wedding client ADL
"Craig went above and beyond to make sure we had a great night and everyone enjoyed themselves. After meeting Craig both my partner and I felt very relaxed about the music at the wedding and that he knew what he was doing. This is exactly what happened on the night. Any bride and groom should be thrilled if they have the opportunity as Craig as DJ."
– Bethany Flight, Client
"He was great he got everything right on the night and we couldn't of faulted his performance in any way."
– Ben McLoughlin, Client
"He was very personable and was ready to get the party started. He did his homework and raised any concerns with us and how we wanted him to handle them. Josh was adaptable and so when the wedding games started (which he wasn't aware of) he jumped at the chance to improve and highlight the moment with appropriate music."
– Anne-Marie Sindely, Wedding client ADL
"He was great on the night"
– Ali, Client
"We were happy with the music and he did a great job, thanks."
– Bec and Pete, Client
"She was very personable and friendly to the guests."
– Meredith, Client
"Maintained the dance floor over the evening"
– Scott, Client
"So much fun"
– Shana Mawhiney, Client
"Chris was great to work with. He made sure he knew what music we liked and her played a great variety of music which got guests up and dancing. He was very professional and a genuinely nice guy. A few guests complimented his work so we will definately be recommending his service."
– Alex and Rhys Fulwood, Client
"Matt listened to exactly what we wanted and completed the tasks with ease. So requests he was only given a short notice to complete. He was dressed well and also completed MCing to a high standard"
– Danni-Lee Bowden, Client
"Friendly, professional and accommodating" – Olivia Brown, Client
"Great music choice, customised the music selection to our requests, had great suggestions about the running of the evening, got everyone dancing. Very accommodating to a last minute request to move the set-up inside. Fantastic, professional MC."
– Felicity Upton, Client
"He did a great job creating a fantastic atmosphere on short notice."
– John Borgman, Client
"Josh was extremely accommodating on the night….nothing was too hard! He always smiled and looked like he was having a great time himself which is fun!"
– Dallas Wilmot, Client
"We liked Josh's positive attitude and energy, we liked how he made sure things were on schedule and how he communicated with us over the night. We also noticed how well he worked with the Murray Street staff and our photographer, Jason.
His mixing of our song selections was excellent, it kept people dancing and having fun on the d-floor.
Overall we are very happy with having Josh as our DJ and would recommend him to all our friends."
– Adam & Kristal Willett, Client
"Because he's good craic (fun in Irish). Honestly he was so friendly and made everything perfect. We will go out of our way to recommend him. He was great with last minute changes and coordinating everything."
– Annalisa Krieg, Client
"If i could give nick 11/10 i would. Great music and he had everyone up dancing including my young autistic cousin who has NEVER done that before. There was just so many people having a great time he didn't want to be left out. I believe its important to point out anything that can be improved on but quite honestly i cant offer any suggestions in this instance."
– Daniel, Client
"Great work. Nice guy."
– Brendan Munroe, Wedding client
"David was always available and communicated with us very well. He was very easy to work with and took all of our music requests seriously, providing a great, fun play list for the event.
David helped to organise a lot of the small details that we hadn't even though about ensuring that things moved smoothly and the music worked well. The string trio was a great addition to the event and was a beautiful suggestion."
– Owen Smith, Wedding client ADL
"Did everything to perfect expectation" – Teandra Moroney, Wedding client VIC
"Was very thoughtful catered to the guests and checked regularly with us and got people dancing most of the night"
– Leigh Robertson, Client
"Nick was always responsive in answering our questions leading into the day and accommodated any requests made on the night."
– Ryan Wilton, Wedding client
". Good communication
. Friendly/easy to work with
. Fun vibe
. Excellent music played/ always at the right volume
. Great MC"
– Kelly Buckby, Client
"He made the night run smoothly.
He was friendly and easy to approach.
Kept checking in with us to make sure we were happy.
Just an amazing DJ with so much talent and so friendly."
– Paula Vermeeren, Client
"Shaun was so easy to talk with over email and the phone. He was very professional. In the lead up to our wedding, he was very efficient in returning phone calls, emails and answering any questions we had, my now-husband and I felt totally at ease with Shaun. On the night, he was amazing. Went above and beyond to ensure we were having a good night."
– Rachel Wood, Client
"She was great fun and the music was excellent, everyone danced to every song she chose."
– Charlotte, Client
". Super Organised.
. Great music selection to suit the demographic of the group.
. Really nice guy."
– Jacki B, Client
"Craig was amazing he literally made our whole night run perfectly! He basically ran the whole wedding and made everything work perfectly I don't know what we would have done without him."
– Christine Pepe, Client
"His performance was outstanding and he did everything i asked, even finding backstreet boys songs"
– Karen Coe, Client
"Very friendly and charming to talk to. He seemed very motivated to make our experience the best it could be and was very professional as he went about his business. We had a lot of entertaining discussions and he accommodated all of our requests flawlessly. We had the perfect wedding that day and Kris was front and centre running the show.
Before the wedding he dealt with all of our requests in a friendly and timely matter and never once showed any frustration with our changing opinions.
I would recommend Kris to anyone."
– David & Yuli, Wedding client
"Teags was very professional however friendly and barely had any breaks and played great music and also allowed the party goers to come with requests.
He also played for a bit longer which was very kind of him a great night for everyone."
– Monica Hage, Client
"He was accommodating, including letting a couple of the friends hop on his equipment for a spin, he was friendly and easy to talk to. Nothing negative."
– James Burgess, Client
"Craig adapted to our music styles and kept the party pumping. Walking & speech intros were done well (pronounced my name weirdly, but it's all good)"
– Remolo Di Niro, Wedding client
"10/10" – Hayley & James Crossling, Wedding client
"Craig is a good DJ. Played the music that we requested and made our night run smoothly. His voice presence from the bridal table was a bit hard to tune in to/hear at times but overall a great night and a very pleasant DJ."
– Lavonne & Frank, Client
"Great communication and song choices"
– Kylie, Client
"Chris was very personable and extremely professional – perfect for any private function
within minutes he had the entire party dancing which continued for the remaining six hours"
– Jessica Flint, Client
"Jerry was extremely good at controlling every situation through the night from the timing of games, speeches and judging the crowds' interests with the music he played. Jerry put in an extra effort to personally come and meet with us twice before our wedding day.
We would highly recommend Jerry to anyone planning a function or a wedding."
– Roman and Kehren Clovicko, Wedding client
"She was exactly what we wanted. Couldn't have asked for more."
– Lisa Rippin, Client
"Perfect song choices – exactly what we were after!"
– Alyssha, Client
"Shaun did an amazing job throughout the night keeping everyone happy. He was relaxed and confident and helped me to relax too. He was decisive (when I couldn't be ) while maintaining a courteous and positive attitude. We had many compliments from guests after the wedding singing Shauns praises also."
– Lauren Green and Evan Williams, Wedding client
"Craig was super friendly, great to deal with on all of our meetings, offered great guidance on songs and process. He was teriffic with his professionalism and performed flawlessly."
– Tanya Parker & Andy Rofe, Wedding client
"Absolutely stoked with George! ! He absolutely rocked the show!! Great guy"
– Ryan Anderson, Client
"Patrick was excellent!! Our dance floor was out of control. He played all our requests and was very accommodating to all our guests. Friendly and considerate. Plus he played for us until 2.30, it was a late one!"
– Tara Adams & Nathan Petersen-Gray, Wedding clien
"David went over and above with everything for our night. He even got a song … as it was a specific one we wanted."
– Jasmine, Client
"Easy to deal with, everything went smoothly. Had everything we wanted and accomodated any changes we wanted easily."
– Steven and Jess, Wedding client
"10/10
He was excellent. Great MC, listened to our music selections and volume requirement.
He totally made the night."
– Daniel Ciampa, Wedding client
"Patrick was professional and friendly and performed well on the night. He paid attention to detail and had positive comments from guests on the night."
– Elise Law, Client
"Jess was the utmost professional throughout the entire process (especially when I must of been such a pain in the ass to deal with!), always ensuring that we were happy! She required minimal from us, which was great as we were swamped! She was set up in the time needed, played exactly what we wanted. Nothing could have made our day and night better!"
– Kirby Drogemuller, Wedding client ADL
"He did a really good job putting our wedding night together. Even though I was really behind with my planning, David still managed to create a good play list and DJ and MC our wedding!"
– Tamika, Wedding client
"Chris did an amazing job. He did everything we asked for and more, and made the night extremely memorable. The dance floor was never empty! We have already recommended him to an engaged couple that we know :)"
– Kirsten Hickey, Wedding client
"Nick looked the part and did a great job. He played the songs we requested, which helped to make the night even more special. Nick was also good to deal with and made an effort to touch base prior to the wedding to make sure things were in order and was prompt in returning our emails.
Thanks Nick!"
– Cimon and Sam, Wedding client ADL
"Craig was absolutely wonderful. He accomodated to our needs and made sure he asked us questions throughout the night to ensure we had exactly what we wanted. He was so friendly and sweet and did an incredible job, we couldn't be happier with him! The guests loved the music, he made it all so easy. Thank you Craig!"
– Jade Falzon, Client
"He was very professional, well presented played the music appropriate for my daughters friends. They were all dancing. It was a great night."
– Sandra Flahherty, Client
"Shaun was extremely helpful prior to and throughout the night. Always checked in to make sure that we were ok and offered suggestions as to how slight changes of timing might work. He played great music and even gave my 10 yo nephew a chance to feel like a hero by dropping his favourite tune!"
– Mark Williams, Client
"Craig was very easy to deal with. He was punctual, professional, and considerate. He was given the task of getting people dancing and both young and old participated. We had an amazing night and Craig was great."
– Sam woods, Client
"He did an amazing job and the guests were impressed as well."
– Amy Sims (stock), Client
"He was ver easy to work with, and provided a great service"
– Ashlee Cox, Client
"Max was very accommodating and played all music requested."
– Sofie Barone, Client
"He was an excellent MC and DJ combination. He made us feel at ease when we caught up before hand and had a casual discussion about what we were after, we could tell he had a lot of experience and knowledge on what worked well which made us feel the night would run smoothly. Which it did! He was confident on the microphone, and professional where he made the effort to use the lectern to introduce each speech. He came up to us to see if we were ready for the next stage, and was never domineering at all. He also took some requests when the crowd started to want even more up beat tunes. Highly recommended Nick, he contributed perfectly to the best night of our lives!"
– Michael Kaselow, Wedding client ADL
"9/10. Cooperative, adaptable, extremely well presented, Lost 1 point for limited knowledge in genre and a bit too softly spoken"
– Leanne Seller, Client
"Chris was extremely professional yet friendly and easy to get along with. He understood our needs and made us feel like any request was possible. He judged the event and adapted music requirements accordingly, exactly as he promised."
– Ellie Golding, Client
"Max was very friendly and professional. He regularly checked that we were happy with the music being played and if there was anything else we wanted. The music he played catered for all the age groups at our function."
– Dora Zalunardo, Client
"We were extremely happy with his performance, the staff loved it and everything ran smoothly."
– Chiara Marling, Client
"He was great with the guests and did everything we asked with out fuss including taking requests and working with my music teacher so I could sing to my husband."
– Renee Pack, Client
"Not only was Craig easy to deal with, he was extremely professional and delivered exactly what was asked of him – same goes for David @ Griffin!"
– Olivia Brown, Wedding client
"I rated Chris a 10, he worked hard to accommodate me"
– Linda Banwel, Client
"Made a real effort to go around and introduce himself to everyone offering them the opportunity to make additional song requests.. Lots of people got up to dance to their song as a result. A really fun night."
– Kristy Cutts, Client
"Shaun was very accomodating and did his best to make sure our night was perfect.
We had a certain playlist that we wanted played and Shaun stuck with that.
Nothing was ever an issue! Very pleasant."
– Caroline Lichtenberg, Wedding client
"Craig was great. He was very professional and confirmed everything with us throughout the night."
– Michelle Miller, Wedding client
"Josh was lovely. Did a great job and was flexible with us. Highly recommend him to anyone."
– Rhiannon Dimasi, Client
"Max was very professional. From when we met him at our venue to on the day Max went over and above what was expected. The music on the night was great with Max taking requests and keeping everyone happy. Every has said he did a fantastic job."
– Janina & Mathew, Client
"He was amazing, very caring and really wanted to make sure we were happy. We loved the music all night and the lights and microphones he provided were great!"
– Corey Barrett, Client
"Score was 10
All round great performance and created fantastic atmosphere, played tunes that were requested and read the crowd – played more/less of the same according to response. We received positive feedback from numerous wedding guests"
– Nina And Orion, Client
"Outstanding service and music.to match! Everyone commented on how great he was!"
– Scott Wooffindin, Client
"She was extremely patient during the planning proceedures and didn't make me feel like an idiot when i didn't know what i wanted.. and when i did know what i wanted she was most accommodating. From the opening of the dance floor to our farewell everybody was boogying or singing along which was exactly what we wanted. Thanks so much Jess, you made our wedding the best party we've ever been to xx"
– Jenny Wellings, Wedding client
"Max was lovely and easy going. He was very well prepared and keen to make the day special for me and my husband."
– Anna Cassar, Client
"Craig did an awesome job for us. Kept the night running smoothly, did all the MC work for us & checked with us throughout the night to make sure things ran to plan."
– Merryn Box, Client
"Chris was excellent – he played all the music we requested (plus his timing was excellent with our entrance, first dance etc) & kept our guest entertained with great music during dinner etc. The photo booth was a massive hit & Chris managed it exceptionally well. Several people commented it was the 'best' wedding they'd been to :-)"
– Denise Case, Client
"Josh was so intune with the night and what the guests were enjoying – happy to accommodate requests and really friendly. Great MC, went with the flow of things and take control when required. We really enjoyed Josh and would absolutely recommend him to others. We also had great feedback from our guests."
– Josh & Stacey Welke, Client
"Shaun was easy to work with, happy to change things as we needed too and always kept us in the loop with what was going on or what needed to happen."
– Alex Pepper, Client
"Did a great job, was organised although he was busy and had to come in last minute. Was very accomodating with our guests and very polite."
– Anna, Client
"Shaun was awesome. Flexible, always consulting during the night, able to quickly change plans and good at reading the mood of the room.
After attending numerous weddings, I can easily say Shaun was the best by a long way and it was an amazing privilege that he was able to be at ours."
– John & Sofee, Client
"Craig was friendly and approachable and seemed genuinely interested in providing us with exactly the experience we were hoping to have.
He really paid attention to our requests and read the crowd fairly well with his own choices too."
– David Stotter, Wedding client ADL
"We had some hiccups initially due to a changeover in DJ however Josh came through and put on an incredible evening for us. I honestly could not have expected anything more from him. His energy was absolutely amazing, our friend and family loved him and he played everything to suit the mood. I popped up to him at one point to introduce myself and he said he noticed me singing along to Above & Beyond, so he played a bit more."
– Brianna Posaner, Wedding client ADL
"Super friendly, set up well ahead of time which was awesome. Was even nice enough to run our music through his decks even though he wasn't on the clock yet. Josh read the crowd perfectly and got everyone dancing the whole night. He mixed well with guests and was happy to have a laugh and seemed to genuinely enjoy it!"
– Alex Cook & Anika Collins, Wedding client ADL
"His style and professionalism worked with the rock theme of the party. everyone complimented on the music"
– Leah Collins, Client
"Max was very concerned as to what our needs were and took the time to discuss the event in the days prior."
– Meredith Buttignol, Wedding client ADL
"9/10 David was very professional and played all of the songs we requested, as well as happily taking on requests from guests on the night. We felt he could work on some of his transitions between songs but overall we were happy with the service he provided."
– Nadia O'Toole, Wedding client ADL
"9 I was happy with performance
October 2015"
– Warren Tudor, Client
"10/10 Did an excellent job without any hassle. Played exactly what we wanted and was extremely accommodating by setting up outside and taking some requests from guests on the evening."
– Robert Moore, Wedding client ADL
"Patrick stepped up to DJ our wedding with 1 weeks notice. He was accommodationg with requests made by the previous DJ and made everyone welcome. Brad hasnt stopped telling everyone how, when people had left, Pat had a few games of Daytona with him at the end of the night.
Pat is a great guy and we recieved positive feedback from our guests. Job well done!
October 2015"
– Deb & Brad Marshall, Wedding client ADL
"Her music selection was excellent and made sure every age group was covered. She also took requests and was very patient with all the kids. We had many compliments from attendees on how good she was and how we hope we get her again in the future.
August 2015"
– Naomi Linossier, Corporate client
"Josh was great. Easy to get along with and knew what he was doing. He did a great job throughout the night and helped get the party going :-)
August 2015"
– Kate Ryan, Wedding client ADL
Kerrie Gargano – Birthday client, Vendor VIC
Magical Makeovers
The biggest & Best Hair & Makeup agency Victoria
info@magicalmakeovers.com.au
Website: http://www.magicalmakeovers.com.au
We had Daniel entertain us at our event and he had the whole floor dancing their booty's off!
Sarah Aird – Vendor VIC
Civil Celebrant
You're not officially married until you've had a selfie with Sarah – 0458 022 190
info@sarahaird.com.au
Website: http://www.sarahaird.com.au
Dan and his team are true professionals. They absolutely know their stuff, and your party will be better for having them at at it!
Belva Tang – Vendor VIC
Birdies & Bogeys – Mt Derrimut Country Club
A hidden gem in the Inner West – 03 9363 1691
belvatang@birdiesandbogeys.com.au
Website: http://www.birdiesandbogeys.com.au
Hands down Dan, you are still the best DJ we have had at the venue since we took over!
Birdies and Bogeys
[one_fourth_first]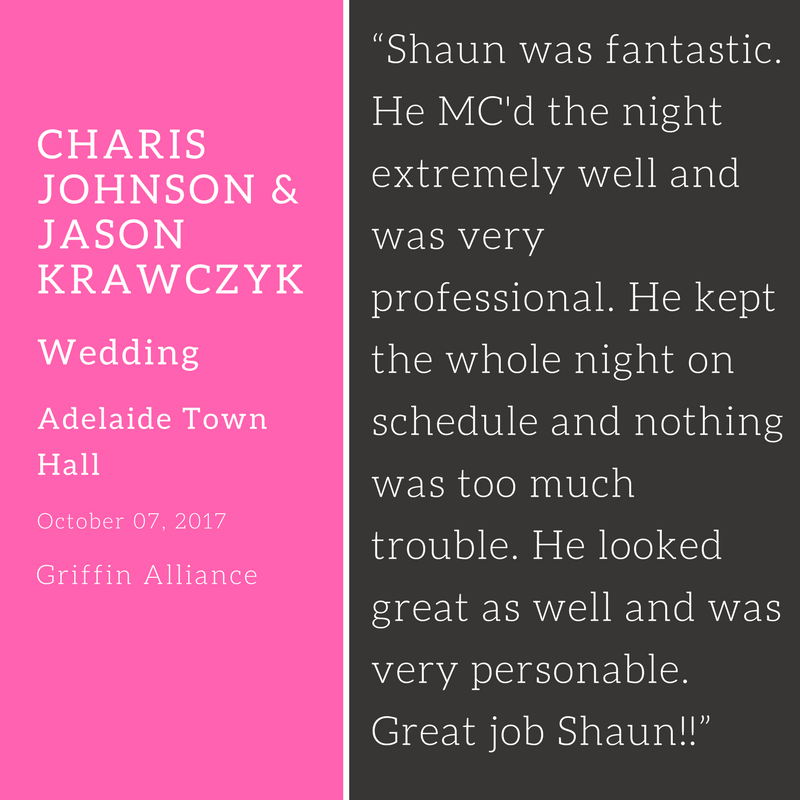 [/one_fourth_first]
[one_fourth_first]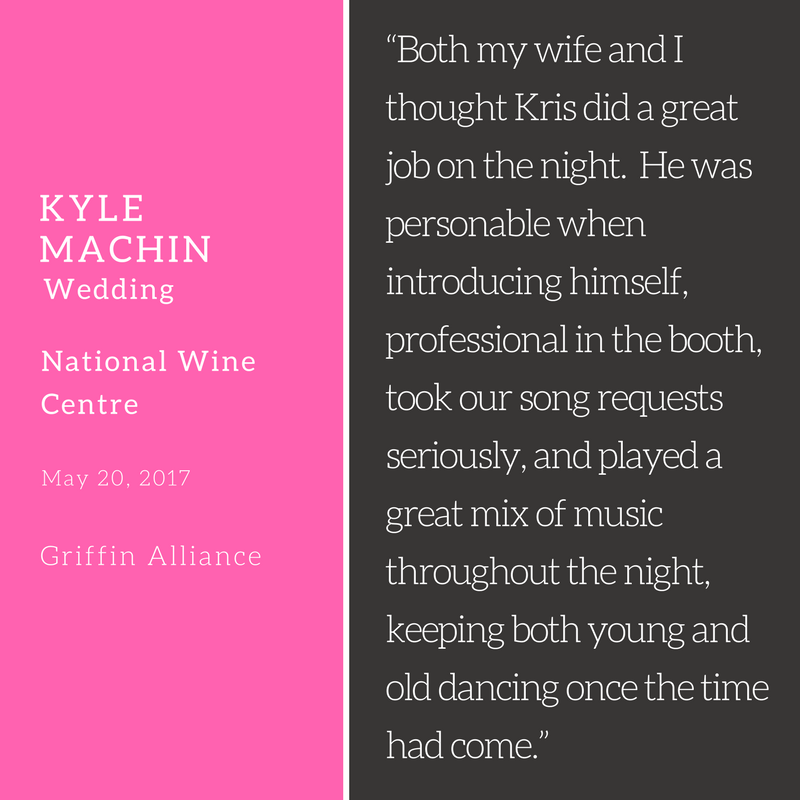 [/one_fourth_first]
[one_fourth_first]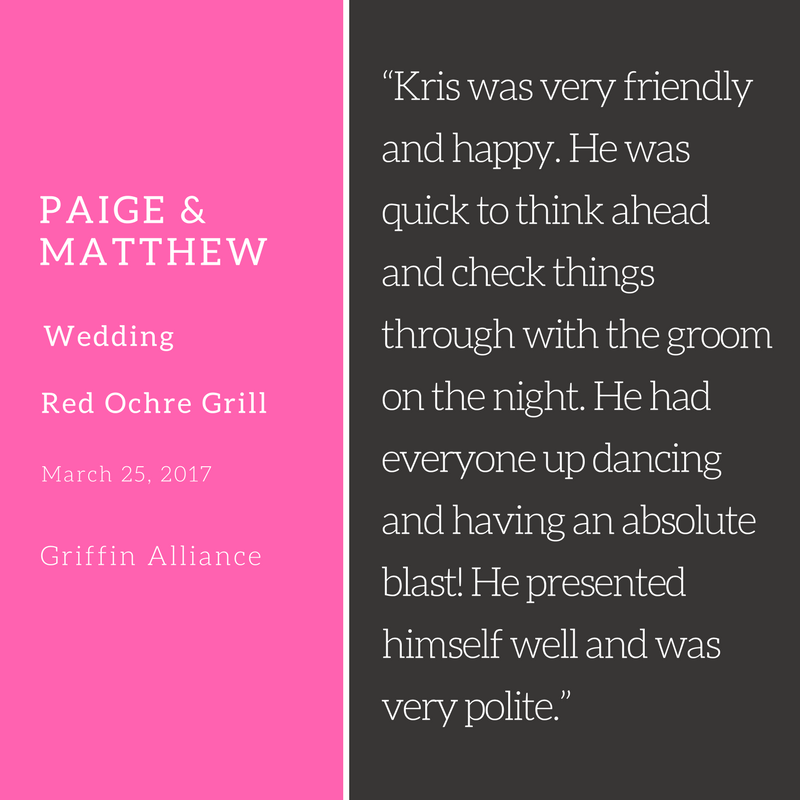 [/one_fourth_first]
[one_fourth_first]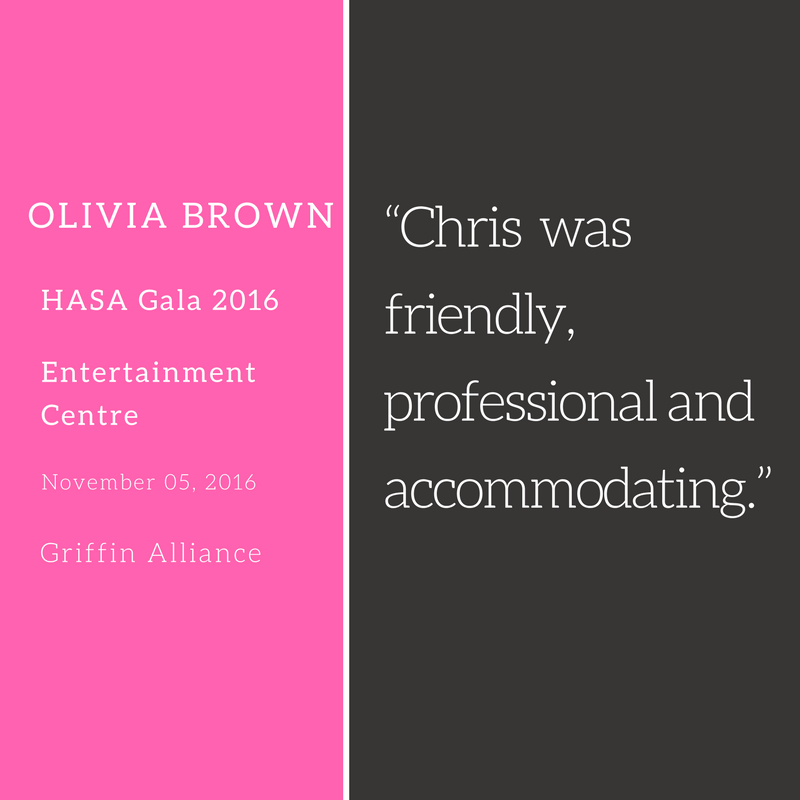 [/one_fourth_first]
[one_fourth_first]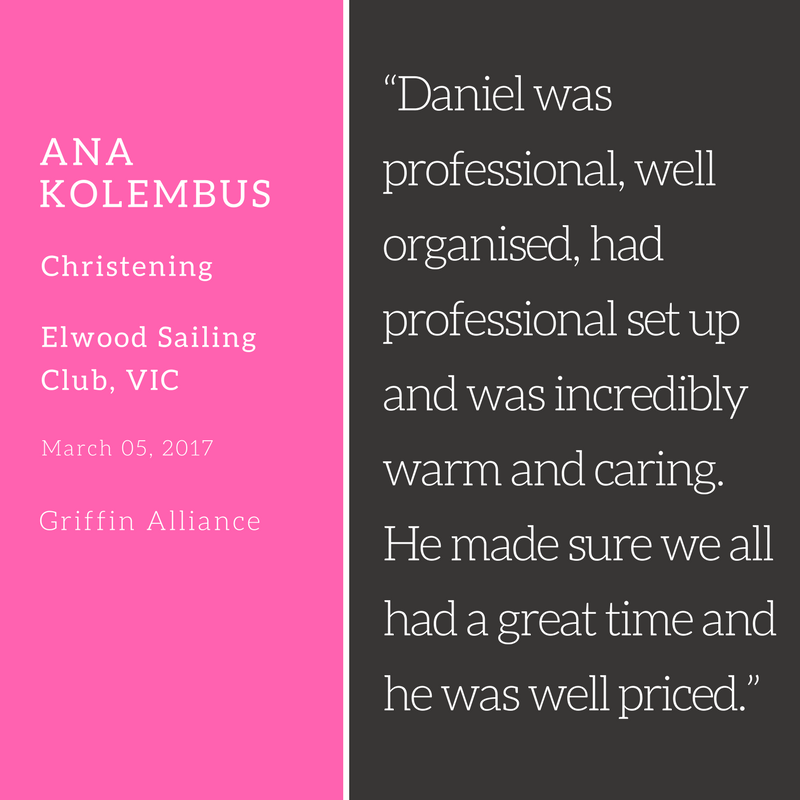 [/one_fourth_first]
[one_fourth_first]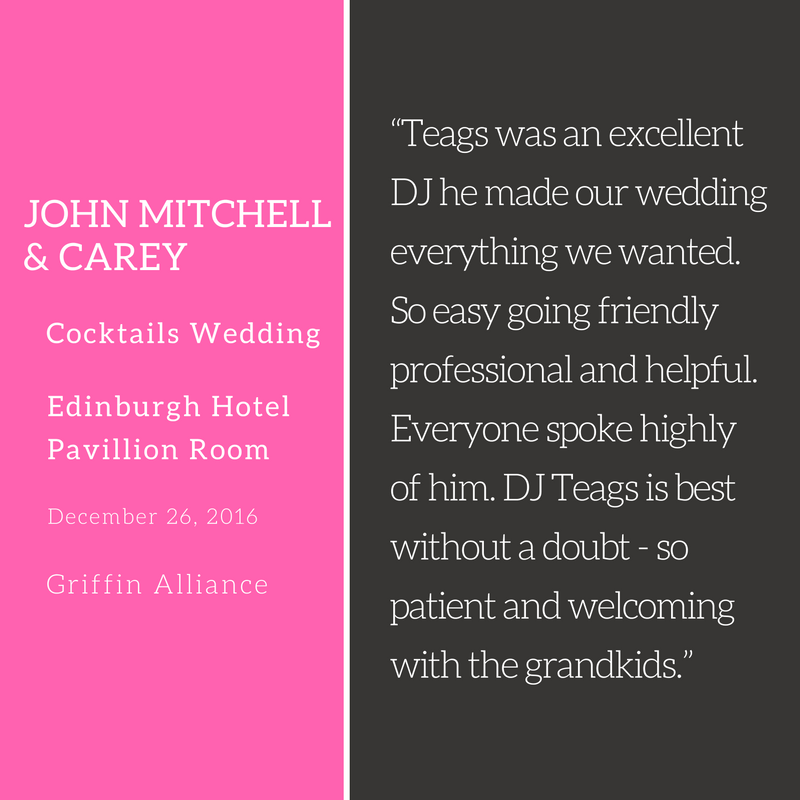 [/one_fourth_first]
[one_fourth_first]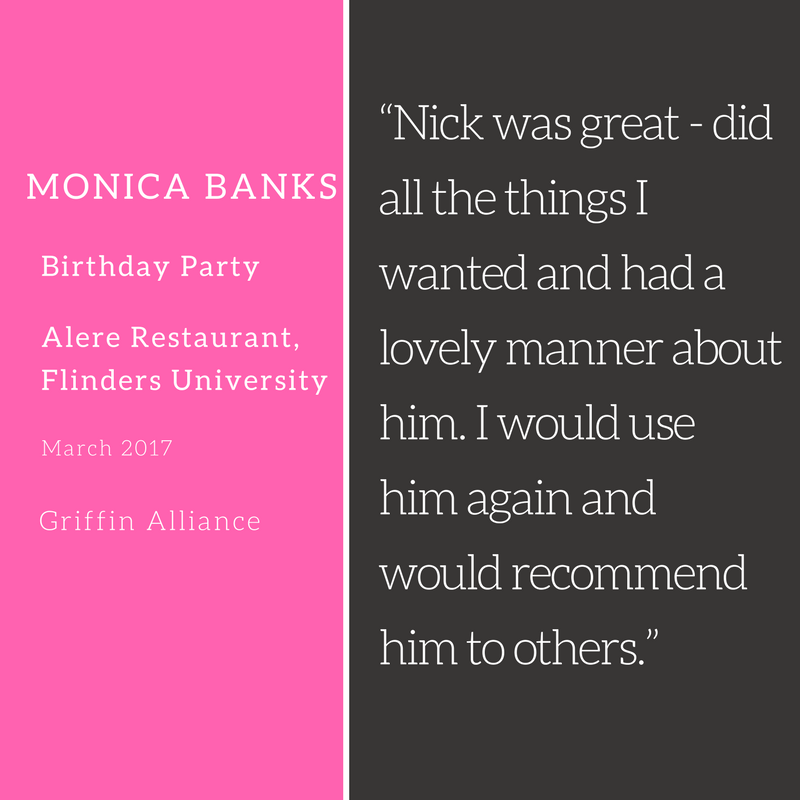 [/one_fourth_first]
[one_fourth_first]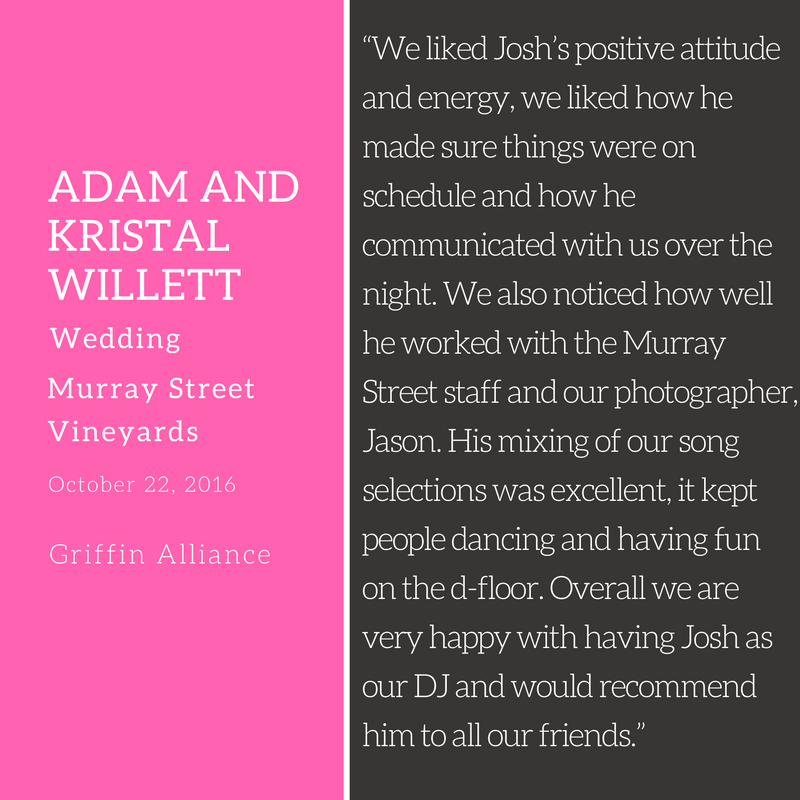 [/one_fourth_first]
[one_fourth_first]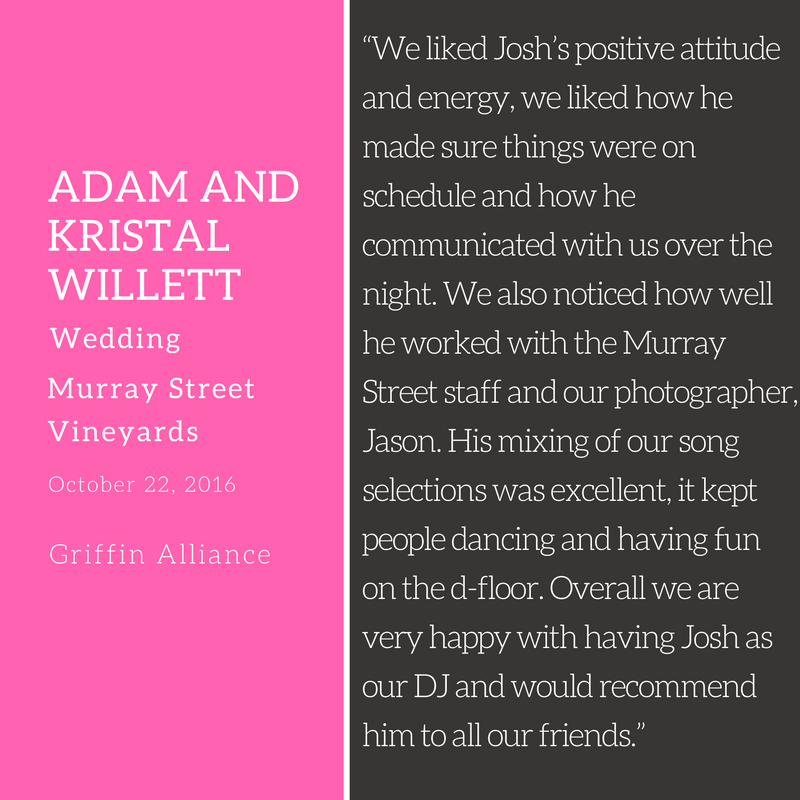 [/one_fourth_first]
[one_fourth_first]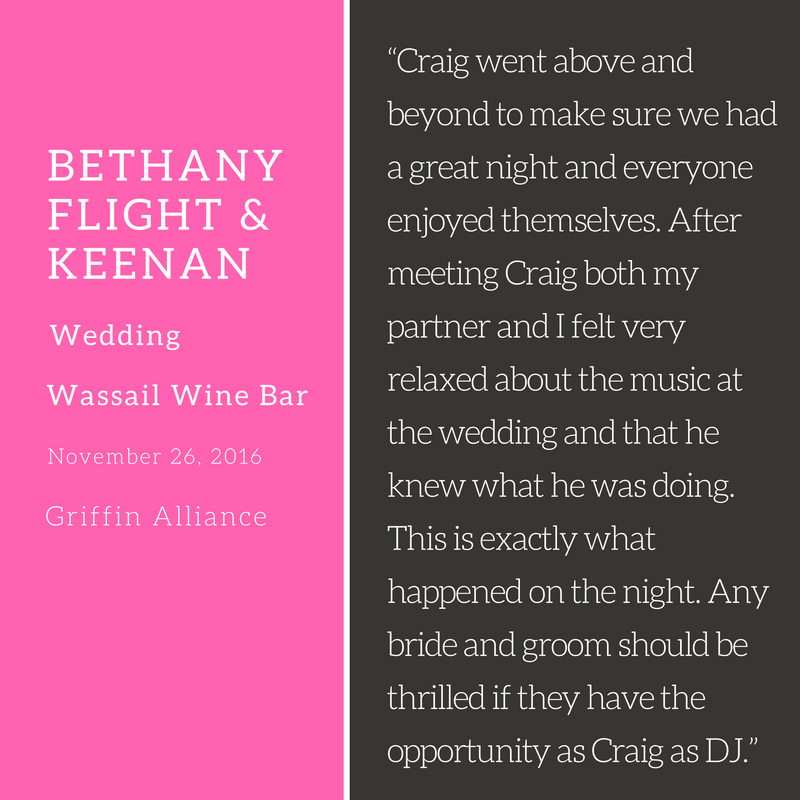 [/one_fourth_first]
[one_fourth_first]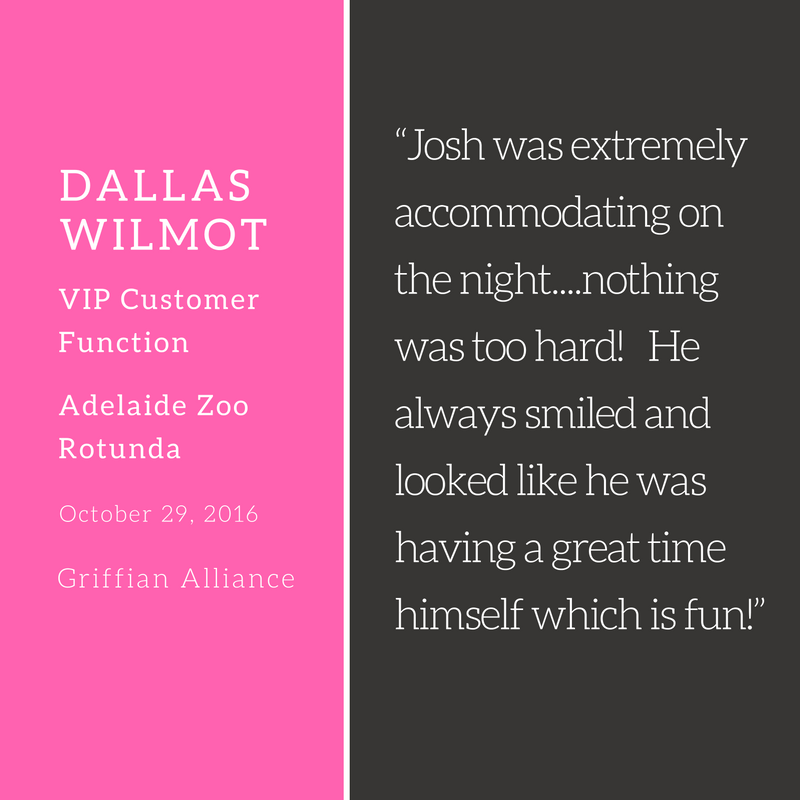 [/one_fourth_first]
[one_fourth_first]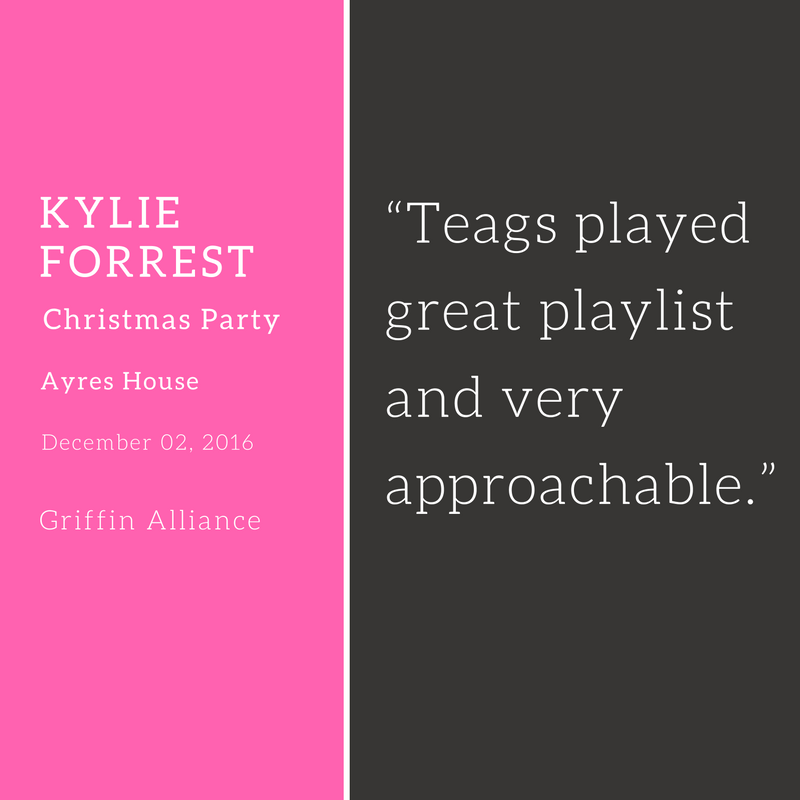 [/one_fourth_first]
[one_fourth_first]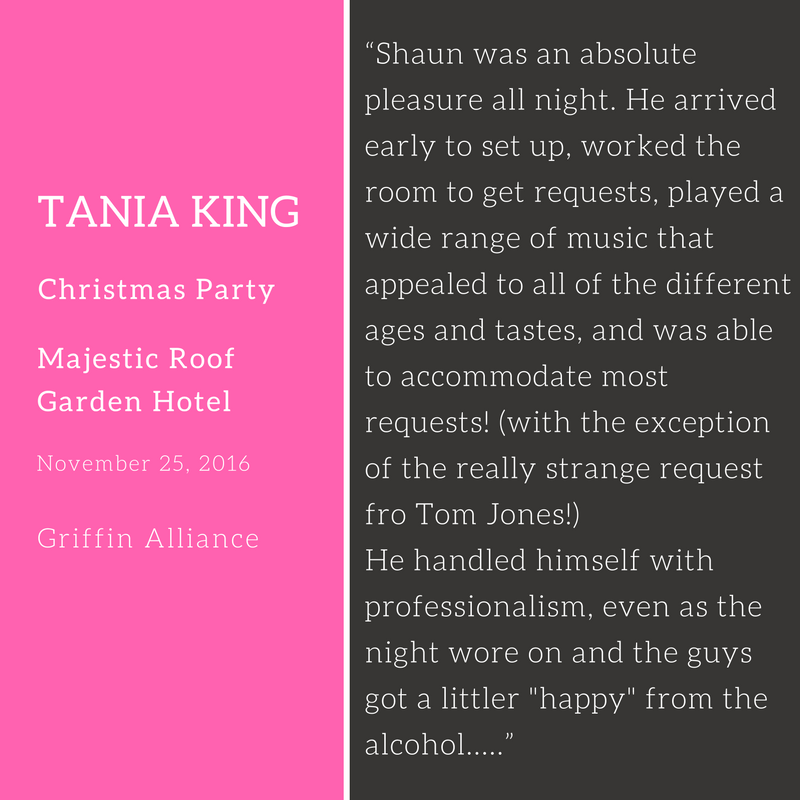 [/one_fourth_first]
---
—
Shane and I would like to sincerely express our heartfelt thanks to you and Shaun for your hard work in ensuring our day ran absolutely flawlessly. He was absolutely brilliant and if I had to do it all over again I would have Shaun there without fail! He kept me well informed throughout and really seemed to know what music would suit the mood and please the crowd. We had the most amazing day and we have people like Shaun to thank for that.
Thanks again, we could not be any happier!
Bonnie & Shane, Norwood
I wanted to let you know that we had a blast! I have passed your company's details onto some family members who are DJ hunting for their weddings. Asking other family members they have mentioned Alex was very courteous, professional and he also had a good balance between communicating with us, without being overbearing. Overall, we were very impressed and pleased with the whole night.
Thank you very much for helping us celebrate our big day. Your services will not be forgotten. :D
Roslyn and Nathan, Colonel Light Gardens
We had a GREAT night. Shaun was absolutely amazing he kept us informed on everything that was going on during the night. He would come up and let us know if we were running behind schedule by a few minutes and gave us suggestions where we could get back the time. He took all our favourite songs that we gave him and played them throughout the night, at the right time. Our appointments that we had with Shaun leading up to our wedding was very helpful and gave us great suggestions on how the night should run and helped us put together our "order of service" without his input we would have been lost. Since the wedding we have had a lot of feedback from guests commenting on how great the music was. 
To sum things up we would happily recommend your company, and especially Shaun, to all our friends and family.
Michael, Medindie
Had a great time mate, as did all of our guests. Chris was outstanding, a great balance between the songs we selected on the playlist and some others that he chose which fitted the mood of each stage of the night really well.
My wife and I are very happy with how well the music went, so thank you! The dance floor was rocking!
Tim, Golden Grove
Bart was great! Very friendly, helpful, intuitive and professional. All in all, we were very impressed, and people were commenting on it.
Also, we had an issue with the venue supplied PA system, and Bart came to the rescue, supplying us with another mic, so we could finish our speeches – we felt this was fantastic, and showed that he was really attentive, when other DJ's may not have been.
Please pass on our gratitude, as he really made the reception what it was!
Pete and Sarah, Oaklands Park
Shaun was amazing! Honestly, not one thing he could of done better. He was calm, organized, kept me updated on what was going on, and played music based on the vibe of the room.
Would recommend him any day :)
Therese, Grange
We had the most amazing night!! Bart was great!! We were so happy with him and everyone really enjoyed the music. We will definitely be recommending him to others! :)
Elise, Crafers
The night went very well! We all enjoyed the music Josh played and he was able to follow through with any last minute requests we had. The music was perfect throughout the night. We would recommend you guys to anyone if the opportunity arises.
Hau, Prospect
Thank you for Alex. He was such a nice guy and did an awesome job. Very polite and a gentleman. 
He handled everything with professionalism and I would use him again in a heart beat . He really Made our night.
Shefia, St Mary's
Last night was a huge success, thank you very much for your help! Josh was and INCREDIBLE DJ! Easy to work with, knew what he was doing, was a great sport and just very helpful! Thank you for lending him to us! I will recommend you guys to other people I work with!
Shannelle, Prospect
—
Hello Ty
I would just like to thank you for the great night you gave when being DJ out our recent wedding at Glen Ewin. As i remembered you were very good, professional and from what i saw it looked like enjoyed yourself too.
As i said there are a few weddings within my group of friends coming up and i am more than happy to recommend you. I have also had nothing but good feedback from our guests regarding your work.
Thank you again for helping with a very fun and memorable night. Also thank you for getting a particular song for Carly off of a mobile phone. It sounds like technology was eventually on your side.
Thanks
Andrew and Carly Davey
* DJ Ty Baxter*
===—
Reference Adam Livori DJ Apprentice
===—
Anna Kanter – DJ Daniel Toop
Tanya Powell – DJ Daniel Toop
Andrew & Pamela Bourke (nee Quartuccio) – DJ Daniel Toop & DJ Brenton Charnley
Malvina Filips – DJ Daniel Toop
Greg & Stephanie Fatchen – DJ Daniel Toop
Michael & Rachel Daldry (nee Degenhardt) – DJ Daniel Toop
Jeremy Pomeroy – Daniel Toop
Colm & Natania Walsh (nee Huff)
Jane Ali – DJ Daniel Toop
Belinda & Kieren Short – DJ Daniel Toop
Bianca Santic – DJ Daniel Toop
Seaford Social and Sporting Clubs – DJ Ty Baxter
Victoria:
Amanda McGrath – DJ Daniel Toop
Tracey Thomas – DJ Daniel Toop
===—
Names: Belinda and Kieran Short
Event Wedding on 15 April 2005
"We both want to thank Daniel Toop very much for the outstanding job he did at our wedding. We were quite particular with the type of music we wanted played, so supplied Dan with our CDs, and he took those and mixed some songs from his own extensive collection which fitted in very well with the music we chose. His knowledge of music is extensive, if you have particular tastes in mind, Dan is the DJ to have at your wedding! He was well dressed, punctual, and knew how to keep the party going all night! Thanks Dan"
===—
Name: Jane Ali
Event: 21st Birthday on Saturday 20/01/07
"Hi Dan,
Oh thanks, I had the best night ever, it went better than i could have expected. And the music was perfect exactly what i wanted, like even songs that i didn't mention to you but that i love came on which was great, thanks heaps, and thanks for the cd's too. Definatly be recomending you.
Jane. "
===—