We recently had a chat with Anthony Cribbes about Celebrant life –
• How did you get into being a Celebrant?
I kind of 'fell' into the job. I had been to at least 20 or 30 weddings in my 20's and always was left extremely underwhelmed by the Ceremony…I never used to question it, but I did think 'Who is the Celebrant trying to convince here, don't they know that we have all heard these exact words at every Ceremony we've been to'. I have a job in Corporate IT and as a natural creative person this was kind of soul crushing so to speak. But when my wife and I got married we had the complete opposite experience where our Celebrant was incredible, full of energy and charisma and have every single person engaged in the Ceremony. So this sparked my interest in looking in to the job…and now the rest is history.
• Why do you enjoy what you do?
My favourite part of this job is all the great people you get to meet. The couples and the other vendors you meet are the best. I have made life long friends through this job and even have started some business ventures with people that I have met.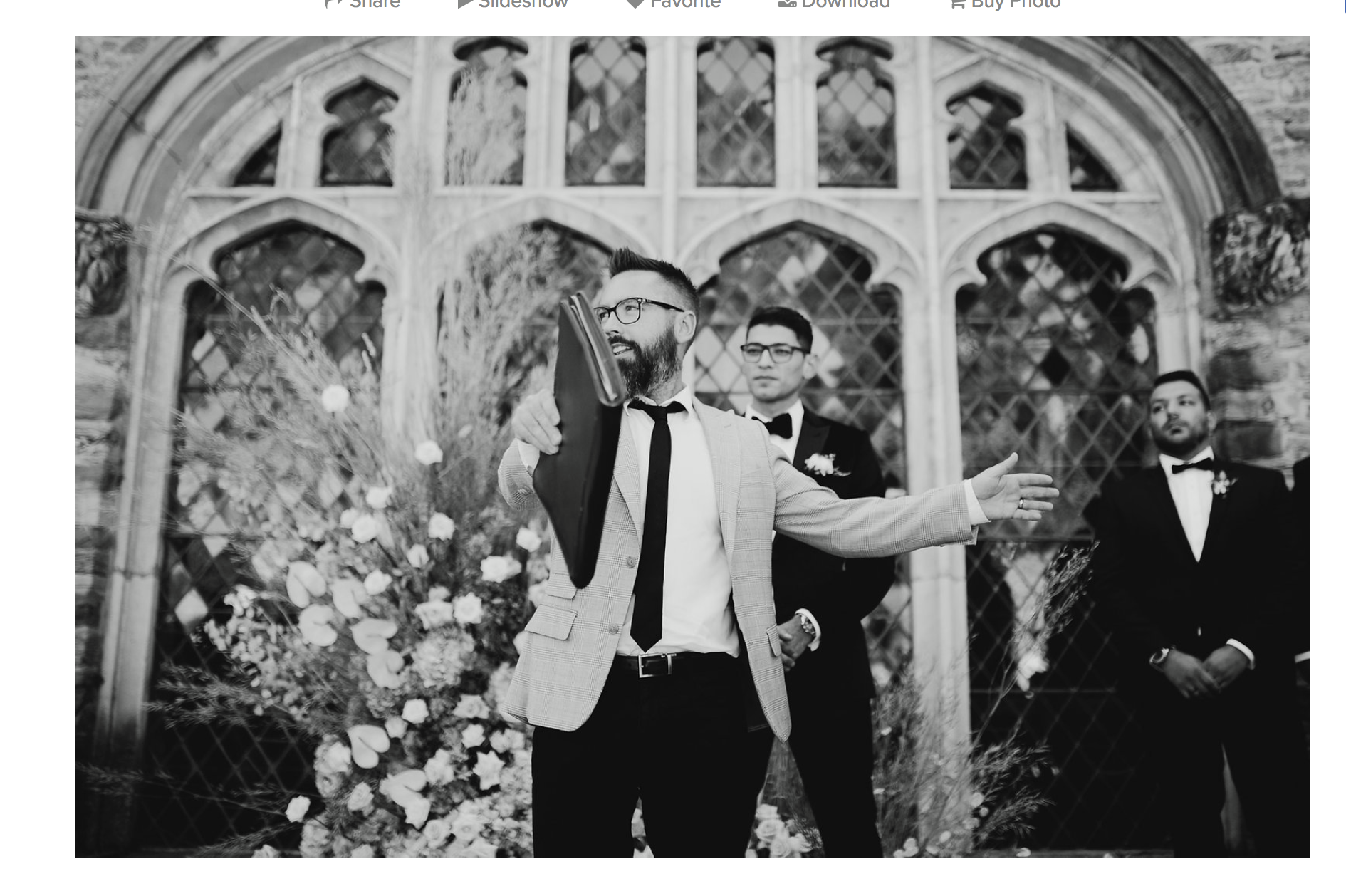 • Who trained you and what are they up to now?
As a Celebrant you don't really 'train' with anyone outside of the RTO who you get your Cert IV with. But I would count Jon Von Goes who was our Celebrant as the closest person to answer this question. JVG is still a Celebrant and someone that I have a great friendship with these days.
• What's the biggest mistakes and myths about Wedding Celebrants?
I think we all hear it: Not bad money for under an hours work!
The reality the delivery of the Ceremony on the day is less than 10% of the work that goes into the job.
• What are your favourite instructional books or resource on what you do? what book or resource should a bride or groom read before their wedding?
I am not a believer that you can find any such resource when it comes to a Ceremony. I believe that Ceremonies should always be unique to each couple and it's the skill of the Celebrant to help craft a ceremony each time to match the couple. The only resource that a couple should use is to sit down and decide what kind of wedding they want.
• What do you believe about the wedding industry that no one else believes?
I'm not sure that I have any unique views as I know that many others share this view. But I 100% believe that weddings should just be a chance to have a great party with your family and friends….like how they used to be back centuries ago in when communities were the mainstay of the society.
• In the lead up to a wedding, what have you noticed your clients doing that ensures a great wedding experience?
They have a great feel for the kind of wedding vibe they are wanting…and then they make all their decisions about their day based on this. They also don't try and be anyone else other than themselves.
• What is the disaster that you closely averted, that the client never even knew about?
As a Celebrant it's always paperwork related. Many times I've noticed in the lead up I've either made a mistake with spelling or maybe missing some pages of a script. A quick trip off to a local Officeworks or calling in a favour from a nearby Celebrant friend or even just ringing up a random Celebrant from a Google search to get a replacement Certificate all sorted well and truly before the Couple even know about it.
• What trends have you noticed over the last 12 months?
Hmmm…the overarching trend is for people to more and more essentially just organise a huge party where they just so happened to also get married seems to becoming more and more prominent.
• What trends do you see developing over the next few years?
I think more and more people will opt to get a friend of theirs to perform a Ceremony and then they'll have a Celebrant to complete the legal part.
• What wedding trends are you seeing overseas that you hope come to Australia?
I love the photos of people using Llamas in their wedding photos…maybe we can do the same with sheep
• What kinds of Wedding Ceremonies are you not good at?
I am definitely happy to say that if you're looking for a super high end, black tie and tuxedo kind of wedding….then I am probably not going to fit the vibe you are looking for.
• What is your advice for people that have just had their wedding and they want to start their own wedding business?
Define what your market is…and be specific, don't be generic and say 'my market is 25 to 35 year olds getting married'…that's 95% of the market. You need to know what is your market specifically – e.g. People who like having a festive style wedding
• How can people get in contact with you?
Website: www.anthonycribbes.com.au
Insta: @anthonycribbes_celebrant
Email: anthony@anthonycribbes.com.au
Phone: 0410 494 225
(or if you're a Celebrant looking to build your business go and check out The Celebrant Hustle on Facebook or on Insta @the_celebrant_hustle)