There are some massive trends going in the wedding industry coming into the 2020 wedding season.
This is mainly for wedding industry people but also useful for people looking to enter the wedding industry or even couples planning their weddings in the next few years to find out what modern weddings are looking like and the big changes afoot.
A few of the wedding blogs have mentioned wedding costs in the $56-65,000 range but I'm more inclined to believe the Australin Government's MoneySmart website with the following breakdown:
Average Australian wedding costs (2017 statistics)
$18,683 – Food, alcohol & venue.
$4,271 – Wedding clothes and accessories.
$3,983 – Photography.
$2,896 – Entertainment.
$2,896 – Flowers and decorations.
$941 – Ceremony.
$2,534 – Other (cars, hair, makeup, accommodation, stationary)
$36,200 – Total cost.
Total: $36,200
For the rest of this discussion I will be using American statistics because we don't have anything comparable in Australia and with a few exceptions (which I'll mention) it is quite similar. Just keep in mind the prices in the images are all in USD, so to compare you need to inflate by approximately 40% to reach AUD prices.
Last year there was a 4% drop in the cost of weddings which is quite considerable when you factor in inflation rate of about 1.9% last year. These are in USD so this actually reflects very similarly the cost of average Australian weddings.

Demand Changes: The percentage figures listed below are the percentage of couples that used a service. This figure is crucial to understanding trends in the wedding industry when you look at it along side the average price paid (by those that DID use the service) as some industries are becoming more competitive for pricing, others for clients and in the worst cases in both areas.

Atheism:
The public have generally become divided on religion and especially same sex marriage over the last few years. The trend for Civil Celebrants is huge now, only about 10% of our clients now get married in churches, which is the direct opposite of the past.
One of the other reasons is that venues have now built chapels on their wedding reception venues (especially wineries) which allows for a massive simplification logistically and allows for savings on photographers, private car hire etc. Many venues also have their own styling which reduces that cost considerably.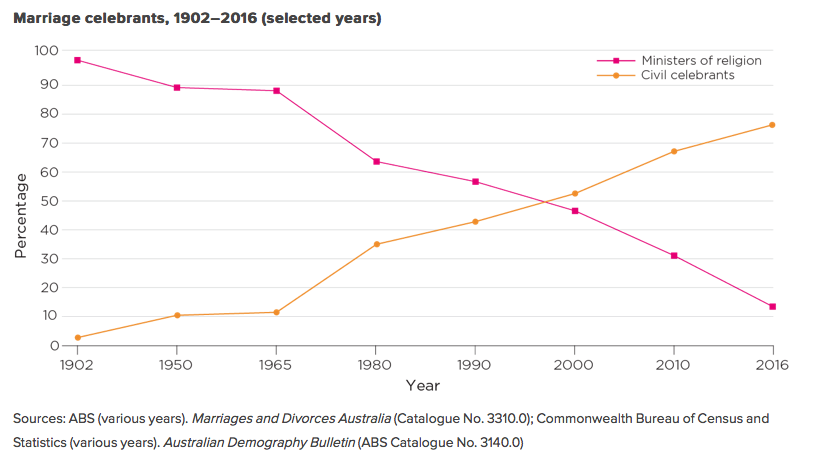 Hair and Makeup:
There is a small trend away from hair and makeup. I think this is driven due to youtube and insta makeup tutorials and women generally having more access to tutorials on how to DIY.
i think there is an opportunity for Makeup Artists to niche into couples that want great photography as most consumer makeup brands have SPF added to their lines, which ruin wedding photography. I think as the bottom and middle market crumble

The suit hire business seems to have stayed relatively the same but the gents are seeming to be saving money, probably due to less formal menswear at weddings with people opting out of the traditional Tuxedo and potentially using one of their existing suits or a less formal option


Entertainment
This one is close to our hearts and the demographics are changing wildly.
Lighting fees are going to come down a lot over the next few years as venues have started to invest in better lighting due to the Instagram Effect.
The good news is that entertainers pricing has remained pretty stable, what is crazy is the drop in weddings that have any entertainment at all, primarily due to Spotify and iPods.
DJs are only down about 8% but bands and live acts are getting decimated (well technically, triple decimated) and are down almost 30-40%
I think this shows that the bottom and middle end of the wedding market are cutting entertainment from their budgets all together, older couples and second marriages becoming more intimate and less dancing and finally some couples want full control over the music so that guests don't have a choice to make requests as entertainers usually opt towards playing music that guests enjoy.
I think that the decrease in bands is also masking the DJ trend as people are opting for a DJ instead as some DJ companies have decreased their prices to compete with iPods, I don't think this is a sustainable market though unless you're paying far under award wage for staffing and stealing music.
This trend is the reason we only target top end clients with an appreciation for DJs, music and dancing.


Flowers and Decorations
The people that do get flowers and decorations are spending about the same as last year, the trends I'm seeing is a drop in Bouquets and Corsages as predominantly brides are starting to go for less "traditional" wedding dresses.
There is also a trend for a bigger amount of Event decoration and styling over floral arrangements. Most high end florists are now becoming stylists for the entire event rather than just taking care of blooms. The real threat is that Stylists will start a floral section of their business rather than outsource it to florsits.


Paper-stuffs:
Print is still a huge part of weddings but the trend is away from it as weddings become more digital in nature and less religious.
most venues are now alternate drop for seated dinners, so menus are seen as not needed unless the couple are foodies.
Facebook and SMS have taken on a lot of the load off of traditional invites, just like they did 10 years ago in the nightclub space.
On the upside, there has been no decrease in pricing despite competition direct from China, so people that want physical goods are still spending for quality.
Jewelry
Engagement rings have remained very resilient to change over the last few years. It will be interesting to see if the rise of feminism will create a change over the next few years as we're seeing couples become much more egalitarian and moving away from Diamonds.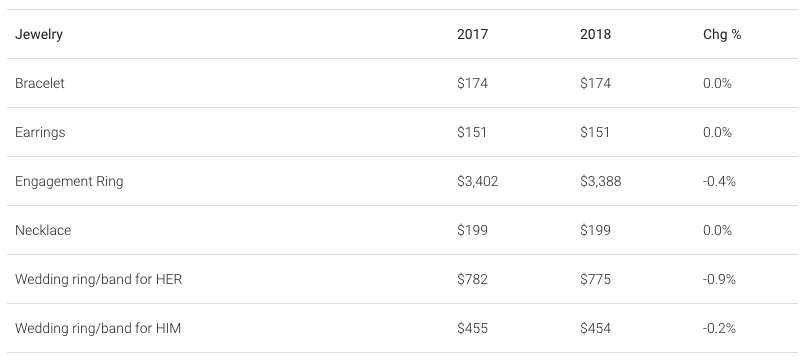 Wedding Photography and Videography
Photography has also gone more digital with less people wanting print products and most suppliers providing USBs and digital downloads instead of the old DVDs of yesteryear.
I wish we had the statistics for the Mean cost of photography instead of the Average as I definitely see more cheaper (fully digital) AND more expensive (digital and print) photographers and the middle market is getting decimated once again as customers get pulled between the extremes.
Videography got destroyed this year. i think as photographers now deliver about 800-3000 photos to the client, compared to 100-200 in the film days, people see less use for it on the middle market as a lot of people now have access to iPhone footage posted on social media. I also see a trend of photographers taking short video clips of moments that are meaningful but don't photograph well.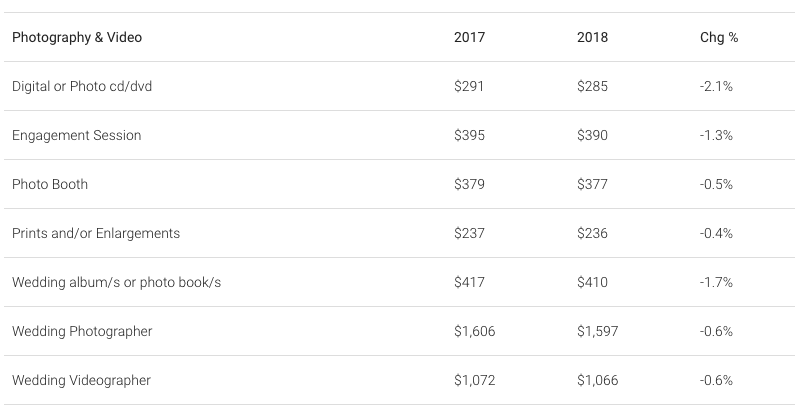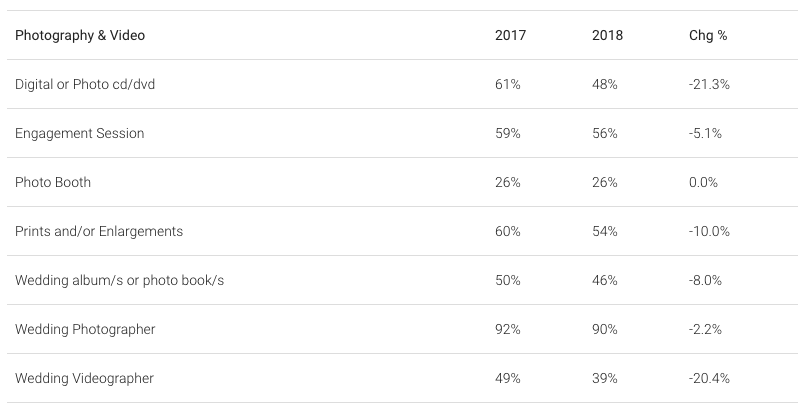 Wedding Planners:
We don't have the culture of weddings planners like they do in the USA, most of our suppliers take on this role but there is a rise of the day-of coordinator and month of which is almost exclusive for DIY weddings and private property weddings where there is no venue coordinator.

Wedding Venue and Rentals
The ceremony officiator statistic isnt relevant for Australia as we have different laws which require a licensed civil celebrant or religious celebrant for weddings. Interestingly the pricing for celebrants in Australia is 2-300% that of those in America, mostly to do with training and also the requirement to provide your own PA system unlike most of America.
In good news, the costs have stayed relatively stable, with food quality (and price) becoming much more competitive which i hear is due to the increase of Foodies via masterchef and instagram which has pushed the whole restaurant industry to innovate or die and it's moving across to weddings.
Bar service as decreased as millenials (the majority of couples) are tending to drink less than past generations and are more health oriented.
Hotel rooms for after reception have tapered off too as more couples co-habitate before their weddings and it's the easiest cost saving as less venues have discounted suites on-site as weddings gravitate away from traditional wedding Reception barns.The most stunning change is probably the impact on Limos and hired cars. I think this is because of three trends:
Venues are making profit by selling wedding ceremonies on-site, so cars arent required between ceremony and reception. A lot of photographers are also doing photos on-site
Uber and hire car services now have Black Cars for a fraction of the price of Limo services which looks a lot nicer than a yellow cab. This is a substitution that never existed before.
Older generations saw automobiles tied to freedom. Before (cheap) mobile phones and the internet, a car was the ticket to visiting friends and the freedom to go wherever you like. Millenials are driving the least of any generation and have had freedom via the interwebs since they were born and Tinder and Uber eats means their needs can come to them ;)
Data:
Easy Weddings Melbourne DJ Easy Weddings 2018Survey Griffin Alliance Blog: Survey of their (primarily) brides. Data is skewed because it's people that book their services through Easy Weddings and therefore people that are more invested in their weddings. Still great data but skewed towards more traditional weddings.
The Wedding Report 2018 Results: This is a United States Market Survey sales company so in my opinion its one of the least biased sources as it's entire business is based around data collection and not selling to Brides and Grooms unlike every other source
MoneySmart Website: Government run website with access to good statistics