We recently had a chat with Jessica Maida about Celebrant life –
• How did you get into being a celebrant?
Firstly, I love to talk so I knew this was going to be something that suited my personality. I ventured into the world of Celebrancy after searching for the perfect celebrant for my own wedding back in 2014. I wanted a celebrant who would create a great ceremony with all the good vibes and soon realised there was a shortage of modern, young and vibrant celebrants in Adelaide. So I thought to myself "I could do that" and did! Never looked back!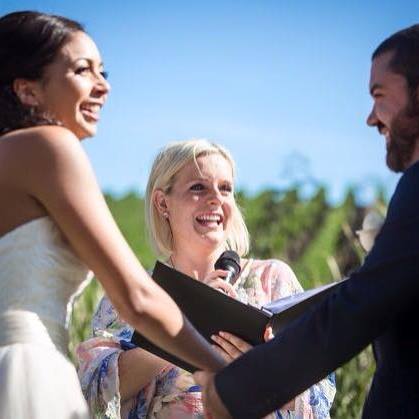 • Why do you enjoy what you do?
I love that being a celebrant is so versatile. Never the same two people you meet, always visiting different and beautiful locations around the state. Couples are sharing such an exciting time of their life with you so I enjoy being surrounded by positive and happy people. I love witnessing all those amazing moments during a ceremony, like when the bride walks down the aisle and seeing their partners face light up, the pure beauty when vows are exchanged, the laughs and the tears….. I get to share in those moments and its pretty awesome. I get butterflies in my tummy each and every wedding when that aisle song starts.
• What's the biggest mistakes and myths about wedding celebrants?
One of the biggest myths is that we just rock up for 30 minutes on the day to perform the ceremony. It's only until couples go on the journey planning their ceremony with us, that most couples then realise the hours of work that goes into the planning, preparing, meetings, writing the ceremony, rehearsals, travel and officiating the actual ceremony with each couple to bring it all together on the day.
• What are your favourite instructional books or resource on what you do? What book or resource should a bride or groom read before their wedding?
I love Instagram, Pinterest and good old google for ceremony inspiration. And did I mention that I LOVE Instagram? Offbeat bride and wedding related blogs for creative insight are also a great resource for me. I am forever refining my ceremony resources that I have developed over the years and love new and modern approaches to offer and suggest to my couples. Nothing wrong with traditional elements but a nice modern twist is always refreshing to include.
• What trends have you noticed over the last 12 months?
A trend that I have noticed over the last 12 months is that more wedding planners are being booked to help ease the stress and organisation of planning a wedding. I think the modern day couple are becoming more and more busy with everyday life so sourcing a great wedding planner is becoming a must.
• What trends do you see developing over the next few years?
"First look photos". Basically, you and your partner have a "first look" before the ceremony which make for AMAZING photos and can definitely ease the nerves in the lead up to the ceremony. What I love about this concept, is that directly after the ceremony, the newlyweds can mingle with their guests and go straight into their reception proceedings because photos have already been done! How cool is that?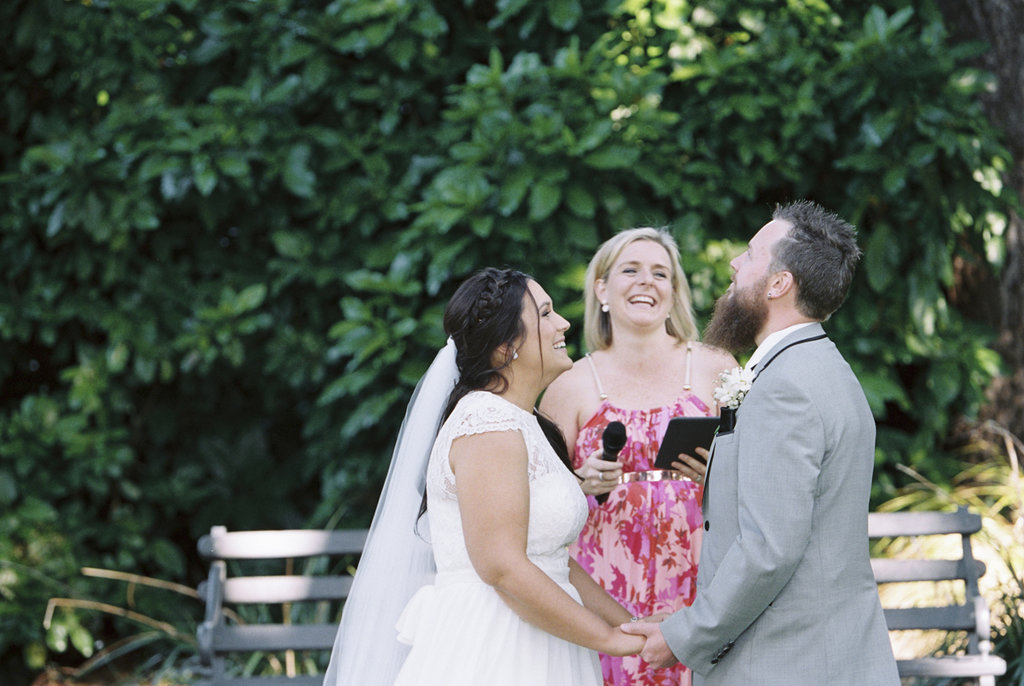 • What wedding trends are you seeing overseas that you hope come to Australia?
I think Australia does weddings well so there really isn't a trend that I've seen stand out for me. I will say though, that the whole 'Lama trend' in Australia is a little bizarre and hope other countries don't foster the idea.
• What kinds of wedding ceremonies are you not good at?
The kind of weddings where the couple have children included in their ceremony and they just walk down that aisle looking so adorable and handsome. Since becoming a Mum, I just know how proud the couple would be watching their little minions and it tugs at the heart strings that's for sure. I also wouldn't be very good at ceremonies that included birds as I have a fear of them, so no bird releases with this celebrant I'm afraid.
• What is your advice for people that have just had their wedding and they want to start their own wedding business?
My advice to anyone wanting to pursue a career in the wedding industry, is to network and introduce yourself to professionals in your field. It can be very isolating in the industry so surround yourself with like-minded professionals. Support one another and most importantly value yourself.
• How can people get in contact with you?
You can find me on Facebook, Instagram or via my website. Would love to be in contact and have a chat!
Instagram
Facebook
Website