We recently had a chat with Stina Evjan about Photographer life –
• How did you get into being a Photographer?
I got bored with my previous work as a graphic designer and I loved taking photos, so I threw myself into the deep end of the pool and shot my first wedding without even assisting anyone. And I loved it and haven't stopped since. That's almost four years ago now.
• Why do you enjoy what you do?
I get to hang with the most amazing couples. For me it's all about the people and their connection. Oh and confetti makes it fun as well!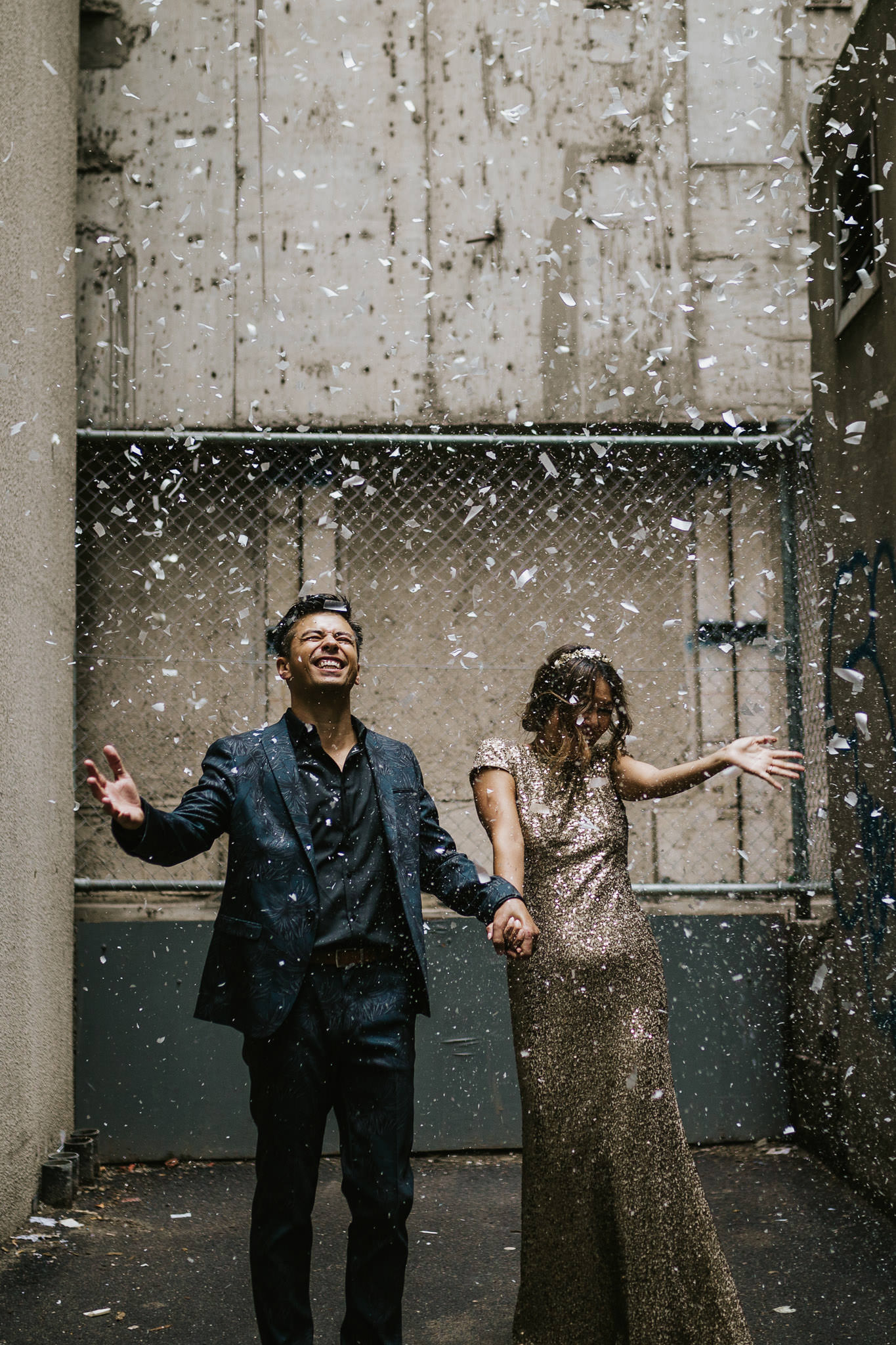 • Who trained you and what are they up to now?
I trained myself, and still up to wedding photography :)
• What's the biggest mistakes and myths about wedding photography?
So many people think they'll get stiff and awkward in front of a camera, which is tied into the biggest myth around wedding photography that it has to be posed and forced. And it definitely can be, but it doesn't need to be. When I shoot portraits it's more like a conversation, having fun and playing with it. Leave the awkwardness with your photographer, they'll know how to make you feel comfortable!
• What are your favourite instructional books or resource on what you do? What book or resource should a bride or groom read before their wedding?
When I got married 8 years ago I read a book called Offbeat Bride, and it opened up my eyes to the fact that you can make your wedding yours. I'm all for any resources that'll tell you that your wedding is about you and what you like.
• In the lead up to a wedding, what have you noticed your clients doing that ensures a great wedding experience?
Give yourself a cut off point! Stop with the preparations 2-3 days before the wedding. What isn't done then is probably not that important anyway. Book in a treat; a massage or a nice dinner and hotel with your future spouse. It's so easy to stress all the way up till the wedding, but you want to enjoy the ride too!
• What trends do you see developing over the next few years?
It's becoming more and more personalised! It's your wedding and you should only do what's right for you. I'm seeing more and more individual structures of a day, people creating ceremonies with meaning to them, but foregoing old school formality. It's awesome.
• What kinds of wedding photography are you not good at?
If you're looking for dramatic, staged, veil flowing in the wind shots, I'm not your photographer. I'm all about people, moments, fun and awesomeness!
• What is your advice for people that have just had their wedding and they want to start their own wedding business?
Do it! Be ready to work your lil butts off, because it is hard work (ask my husband during the years when I started up my business, he wasn't expecting to see so little of me for that time), but it's a fantastic industry. You get to hang with awesome couples, make new friends among other ace vendors. 5/5 would recommend! Be prepared on giving up your weekends though. I still haven't properly gotten used to this…
• How can people get in contact with you?
You can check out my work on www.goldandgrit.com.au
Email me on hello@goldandgrit.com.au
Or find me on Instagram, https://www.instagram.com/goldandgrit/
And on Facebook, https://www.facebook.com/GoldandGrit/