A popular Adelaide wedding venue get's a makeover
---
Wedding DJ, David Bartholomeusz from Griffin Alliance, reviews Mt Lofty House so brides and engaged couples can consider it as a reception venue for their special day.
Mount Lofty House: Coach House
As promised, I'm reviewing the new Coach House room at Mount Lofty House. For those of you who haven't considered Mt Lofty House for your wedding, this is for you.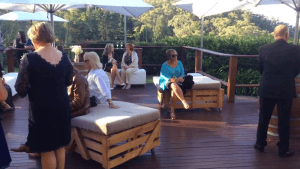 Mt Lofty House has completely changed over the last 3 years. The Mercure Group have taken it over and converted what was an already excellent venue into just something absolutely fantastic, so this space is completely new.
A lot of you probably don't know this space even exists – it's called the Coach House. It's done beautifully and has employed very good-looking staff (for all you ladies!). This is a small intimate room which is a great venue for a cocktail function. They've got about 100 down for cocktails tonight for the wedding and I've shown you the room but this is what you really want to see!
Stunning views of Adelaide for your wedding reception venue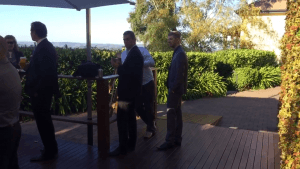 The view just outside of the Coach House room will blow your mind! Guests are spoilt with beautiful views of the gardens and the Adelaide hills from a beautiful little deck. And there are even a few little lawn games for guests. Everyone is contained in a beautiful little space, so this is just a perfect venue for bride's who love a garden setting.
Any new brides that are considering Mt Lofty House, the Coach House area is a great choice if you're looking for an intimate venue overlooking the gorgeous hills of Adelaide. There are also 3 other spaces that you could have your wedding in that will accommodate anything fro 30 people for a sit-down wedding, right through to about 150 people.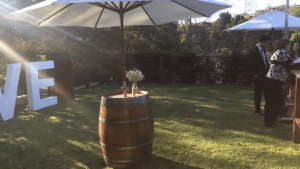 The Coach House is just one of the great spaces up at Mt Lofty House, so don't be afraid to come and check out to find the perfect wedding reception venue for you!
And of course, the Griffin Alliance team can arrange all of your entertainment. Talk to our team of wedding DJ's today on 0417 819 553.